El Paso, Texas
City in Texas, United States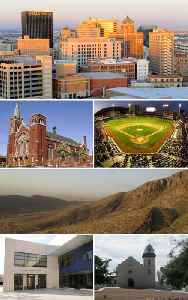 El Paso is a city and the county seat of El Paso County, Texas, United States, in the far western part of the state. The 2019 population estimate for the city from the U.S. Census was 681,728, making it the 22nd-largest city in the United States, the sixth-largest city in Texas, and the second-largest city in the Southwest behind Phoenix, Arizona. Its metropolitan statistical area covers all of El Paso and Hudspeth Counties in Texas, and has a population of 840,758.


El Paso, Texas starts curfew to fight COVID-19

The U.S. border city of El Paso has been put under a two-week long curfew in an attempt to stem a surge in coronavirus infections. Flora Bradley-Watson reports.
Credit: Reuters - Politics Duration: 01:39
Published
Anguished search for son who vanished at border

The parents of a 12-year-old Guatemalan boy named Gustavo, who struggles to speak, has deformed limbs and suffered a machete attack, sent their son to the United States alone amid turmoil in Mexico...
Credit: Reuters - Politics Duration: 03:00
Published
You Might Like



Mexican migrants removed from border camp after family separation threat

Mexican authorities on Tuesday removed almost 100 Mexican migrants seeking asylum in the United States from a camp in downtown Ciudad Juarez, across the border from El Paso, Texas, according to a..




Reuters - Published





Shifting asylum 'burden': U.S. sends Guatemala first Honduran migrant

The first foreign asylum-seeker arrived in Guatemala on Thursday from El Paso, Texas, under a U.S. agreement that establishes it as a so-called safe third country to process people fleeing persecution..




Reuters - Published




U.S. sends Guatemala first Honduran migrant under asylum deal

The first Honduran asylum-seeker arrived in Guatemala on Thursday from El Paso, Texas, under a controversial U.S. agreement that establishes Guatemala as a safe third country to process people fleeing..




Reuters - Published





Mexicans sue Walmart over Texas shooting that left victims on both sides of border

Ten Mexican citizens have sued Walmart over the shooting at a store in the U.S. border town of El Paso, Texas, that killed eight Mexicans and left eight more injured, saying that Walmart did not do..




Reuters - Published





Mexico pushes U.S. to designate El Paso shooting an act of terrorism

Mexico's government on Wednesday doubled down on its assertion that the Aug. 3 mass shooting in El Paso, Texas, was an act of terrorism against Mexicans and urged the United States to ensure the..




Reuters - Published




A week after Texas massacre, El Paso marchers condemn racism

Democratic presidential candidate Beto O'Rouke on Saturday joined a march in the Texas border city of El Paso to condemn last week's mass shooting there, telling the crowd that President Donald Trump..




Reuters - Published





Organizers of El Paso march say they will stand against hatred, one week after massacre

A week after a gunman killed 22 people in El Paso, activists on Saturday will lead a march in the West Texas city that they say will draw hundreds of people standing up against hatred.




Reuters - Published





Texas shooting suspect told police he targeted 'Mexicans'

The suspected gunman accused of killing 22 people in a shooting rampage at Walmart in El Paso, Texas last weekend confessed while surrendering and told police he was targeting "Mexicans," according to..




Reuters - Published





From Christchurch to El Paso: understanding white, right-wing terrorism

A lecturer in terrorism studies explains the motivations for racist extremists and warns that shutting down their platforms, such as 8Chan, won't stop them.




The Age - Published





Death toll from Texas shooting rampage rises to 22, Trump to visit El Paso

Two more victims of a shooting rampage at a Walmart store in El Paso, Texas, died of their wounds on Monday, police said, raising the death toll to 22 in the massacre as U.S. President Donald Trump..




Reuters - Published





Mexican man who shielded wife in Texas mass shooting dies

A Mexican man who threw himself in front of his wife to shield her from bullets in a mass shooting in El Paso, Texas, died on Monday, officials and his family said, raising the toll of Mexican..




Reuters - Published





Mexico to open first terrorism probe of an event on U.S. territory

Mexico will investigate the mass shooting in El Paso, Texas, that killed 22 people, including eight Mexican citizens, as an act of terrorism and may request the suspected shooter be extradited to..




Reuters - Published





Two more Texas shooting victims die in attack, Trump to visit El Paso

Two more victims of a shooting rampage at a Walmart store in El Paso, Texas, died of their wounds on Monday, police said, raising the death toll to 22 in the massacre as U.S. President Donald Trump..




Reuters - Published




Two Texas shooting victims die in hospital, raising death toll to 22

The death toll rose to 22 people on Monday in a mass shooting at a Walmart store in El Paso, increasing with two deaths in a hospital days after a spate of shooting sprees, El Paso Police said on..




Reuters - Published





Death toll rises to 21 in Texas mass shooting at Walmart

The death toll rose to 21 people on Monday in a mass shooting at a Walmart store in El Paso, one of two weekend shooting sprees that prompted U.S. President Donald Trump to condemn white supremacy.




Reuters - Published





Texas suspect charged with murder in shooting labeled domestic terrorism

Texas prosecutors charged a man with capital murder for fatally shooting 20 people at a Walmart store in El Paso, one of two weekend shooting sprees that prompted U.S. President Donald Trump on Monday..




Reuters - Published





Prosecutors charge Texas shooting suspect with murder, seek death penalty

A single capital murder charge was filed on Sunday against the man accused of killing 20 people and wounding more than two dozen others at a Walmart store in El Paso, a mass shooting authorities are..




Reuters - Published





El Paso lands in heart of debates over gun violence and immigration

Artist Manuel Oliver had planned to unveil his mural on Sunday at a community event in El Paso, the latest of his works to celebrate the life of his murdered son.




Reuters - Published




Factbox: Mother of three, army veteran, teenage boy among 20 killed in El Paso shooting

A mother of three young children and her husband shielding a baby, along with an Army veteran and a teenage boy were among the 20 people killed on Saturday in a mass shooting at a Walmart store in El..




Reuters - Published





Walmart massacre in Texas investigated by authorities as domestic terrorism

U.S. authorities investigating what drove a young man from the Dallas area to kill 20 people at a Walmart store hundreds of miles away in the border city of El Paso said on Sunday they are treating it..




Reuters - Published




El Paso shopper, recently arrived from Mexico, took a bullet for his wife

Juan de Dios Velazquez had only moved to El Paso, Texas, with his wife Estela Nicolasa from Ciudad Juarez, just across the border in Mexico, six months before they were caught in Saturday's mass..




Reuters - Published





Mexico considers litigation labeling El Paso massacre as 'terrorism'

Mexico's attorney general is considering litigation alleging that the mass shooting at a Walmart store in El Paso, Texas, in which seven Mexicans were among the 20 people killed, was terrorism, the..




Reuters - Published





Mexico considering litigation over shooting of Mexicans in the United States: foreign minister

Mexican foreign minister Marcelo Ebrard said on Sunday that the attorney general would consider litigation claiming that terrorism was committed against Mexicans in a shooting in El Paso, Texas, in..




Reuters - Published





Walmart says its training helped save lives in prior incident

Days before Saturday's mass shooting that killed 20 people at a Walmart Inc store in El Paso, Texas, another shooting erupted at a Walmart in Southaven, Mississippi.




Reuters - Published





Six Mexicans killed in El Paso shooting, Mexican president says

The number of Mexicans killed in a shooting in El Paso, Texas has risen to six, Mexican President Andres Manuel Lopez Obrador said on Sunday, adding that seven other Mexican citizens were injured in..




Reuters - Published





Mexican official decries 'xenophobic barbarism' after El Paso shooting

A top Mexican official on Sunday condemned a shooting in El Paso, Texas that killed 20 people, including three Mexicans, calling for an end to rhetoric that incites "xenophobic barbarism."




Reuters - Published





After El Paso shooting, Mexico to take legal actions to protect Mexicans in U.S. -official

Mexico's Foreign Minister Marcelo Ebrard said on Sunday that Mexico will take legal actions to protect its citizens in the United States, following a shooting in El Paso, Texas, that left 20 dead,..




Reuters - Published





Pope condemns spate of U.S. gun violence, prays for victims

Pope Francis on Sunday condemned attacks on "defenseless people" in a spate of gun violence in three American states, including one that killed 20 people in a Walmart store in El Paso, Texas.




Reuters - Published





Texas police seek clues to explain Walmart shooting that killed 20

Police and FBI investigators in Texas searched for clues on Sunday to explain what drove a young gunman from the Dallas area to kill 20 people at a Walmart store hundreds of miles away in the border..




Reuters - Published





Tim Fischer calls on Americans to stand up to NRA following Texas shooting

Tim Fischer says the US must finally act on gun control after 20 people were shot dead in El Paso, Texas in the 249th gun massacre of the year in America.




SBS - Published





When the U.S. puts a border between migrant kids and their caretakers

On June 12, Gerardo, a 41-year-old indigenous bricklayer from Guatemala, appeared before a U.S. immigration judge in El Paso, Texas. Since crossing the U.S.-Mexico border illegally two months earlier..




Reuters - Published





An ever-expanding job for border agents: sensitive decisions on migrants' fates

In a U.S. border patrol facility in El Paso, Texas, labels on holding cells indicate whether migrants have been selected - "yes" or "no" - for a new Trump administration program that sends asylum..




Reuters - Published





Border agents feared riots by migrants at overcrowded station: U.S. government documents

U.S. agents at an El Paso, Texas border station feared riots by migrants being held in overcrowded and unsanitary cells and were "embarrassed" and "frustrated" by the detainees' conditions, according..




Reuters - Published





Government inspectors detail overcrowding at U.S. border station: NBC

U.S. government inspectors reviewing a border station in El Paso, Texas, reported poor conditions for migrants, including overcrowding and a lack of sanitary conditions, NBC News reported on Monday,..




Reuters - Published





U.S. ramps up Mexico asylum returns, Trump confirms 'safe third country' plan

The United States has doubled the number of asylum seekers it sends back each day to Mexico from El Paso, Texas, a Mexican immigration official said on Friday, in the first sign of action following a..




Reuters - Published





U.S. sending more asylum seekers back to Mexico via Texas border crossing: official

The U.S. government on Thursday began ramping up the pace of returns of asylum seekers to Mexico to wait out their U.S. court hearings by sending around 200 migrants back through the El Paso, Texas,..




Reuters - Published