National Press Club (United States)
Professional organization and private social club for journalists in United States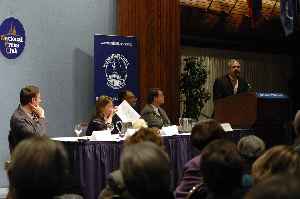 The National Press Club is a professional organization and business center for journalists and communications professionals. It is located in Washington, D.C. Its membership consists of journalists, former journalists, government information officers, and those considered to be regular news sources. It has gatherings with invited speakers from public life as well as a venue open to the public to host business meetings, news conferences, industry gatherings and social events.


Prime Minister Scott Morrison takes 'It's Time' theme from Labor as he makes final pitch
Prime Minister Scott Morrison theme for his National Press Club address was "now is not the time" for a Labor government.
SBS - Published
Search this site and the web:
You Might Like