Bill Gates
American business magnate and philanthropist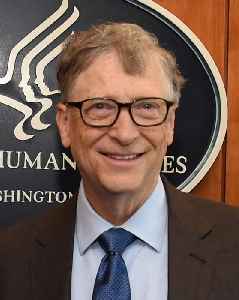 William Henry Gates III is an American business magnate, software developer, investor, and philanthropist. He is best known as the co-founder of Microsoft Corporation. During his career at Microsoft, Gates held the positions of chairman, chief executive officer (CEO), president and chief software architect, while also being the largest individual shareholder until May 2014. He is one of the best-known entrepreneurs and pioneers of the microcomputer revolution of the 1970s and 1980s.


Bill Gates Says Coronavirus Will End For Developed Nations by 2021

The Microsoft co-founder made his comment in a new interview with 'Wired'.
Credit: Cover Video STUDIO Duration: 01:29
Published
Covid update: China allows Indians to return; Bill Gates on vaccine

From China allowing Indians to return to another Uttar Pradesh minister reportedly testing positive - here are the top news updates on the Covid-19 pandemic. Around 150 Indians including diplomats'..
Credit: HT Digital Content Duration: 02:44
Published
Bill Gates Calls Slow COVID-19 Testing a 'Complete Waste'

In an appearance on CNBC's 'Squawk Box,' Gates gave some sharp criticism of America's response to the COVID-19 pandemic.
Credit: Cover Video STUDIO Duration: 01:24
Published
Barack Obama, Bill Gates, Elon Musk and Others Targeted in Twitter Bitcoin Scam

On Wednesday, dozens of public figures' Twitter accounts displayed messages urging fans to send them Bitcoin and receive double the amount back.
Credit: Cover Video STUDIO Duration: 01:02
Published
Barack Obama and Bill Gates accounts hacked in Bitcoin Twitter scam

High-profile Twitter accounts, including those of Barack Obama, Elon Musk and Kanye West, have been hacked as part of a widespread cryptocurrency scam.The accounts, which have large Twitter followings,..
Credit: PA - Press Association STUDIO Duration: 00:33
Published
Twitter accounts of Joe Biden, Elon Musk, Bill Gates hacked to run Bitcoin Scam

A number of high profile Twitter accounts including that of US presidential hopeful Joe Biden, Tesla CEO Elon Musk, Microsoft Co-founder Bill Gates and of Apple were simultaneously hacked on Wednesday..
Credit: ANI Duration: 01:15
Published
Bill Gates Discusses COVID-19 Vaccine

Bill Gates talked about the COVID-19 vaccine. According to Gates the "final hurdle" to distributing a COVID-19 vaccine will be ensuring that people decide to take it. Gates said testing vaccine..
Credit: Wochit News Duration: 00:27
Published
Jennifer Gates Talks About Growing Up With Privilege

The oldest daughter of Bill and Melinda Gates, Jennifer Gates, talked about growing up with privilege in an interview. She said: "It's about using those opportunities and learning from them to find..
Credit: Wochit News Duration: 00:32
Published
Bill Gates: COVID-19 'Will Be Back' In October-November

Alex Wong/Getty Images Bill Gates warns that COVID-19 infection rates will hit another wave in the fall, around October and November, when temperatures cool. The situation is made worse by the..
Credit: Wochit News Duration: 00:33
Published
A Wild Conspiracy Theory About Bill Gates Is Trending On Twitter

Billionaire philanthropist and Microsoft cofounder Bill Gates has pledged a quarter billion dollars to fight coronavirus pandemic. But, that has not stopped a wild conspiracy theory about him to go..
Credit: Wochit News Duration: 00:29
Published
You Might Like
Search this site and the web: