Port Moresby
Place in National Capital District, Papua New Guinea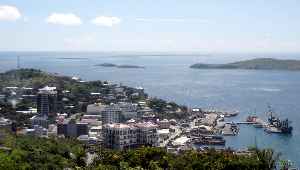 Port Moresby, also referred to as Pom City or simply Moresby, is the capital and largest city of Papua New Guinea and the largest city in the South Pacific outside of Australia and New Zealand. It is located on the shores of the Gulf of Papua, on the south-western coast of the Papuan Peninsula of the island of New Guinea. The city emerged as a trade centre in the second half of the 19th century. During World War II it was a prime objective for conquest by the Imperial Japanese forces during 1942–43 as a staging point and air base to cut off Australia from Southeast Asia and the Americas.


After six years we leave Manus Island to go to 'nowhere': an asylum seeker's story
Thirty-five asylum seekers detained on Manus Island for six years have moved to Port Moresby, but still don't know their future. One of them tells his story,
The Age - Published
PNG offers Manus Island asylum seekers voluntary relocation to Port Moresby
Questions remain after a notice from Papua New Guinea's immigration authority was reportedly posted on Manus Island, offering the remaining asylum seekers the option to relocate to the capital city.
SBS - Published
Dozens of asylum seekers moved to new immigration centre in Port Moresby
Asylum seeker advocates say officials are moving dozens of men to a new Australian-funded immigration centre in Port Moresby.
SBS - Published
Papua New Guinea parliament meets to elect new prime minister
Papua New Guinea's parliament is set to convene in Port Moresby on Thursday to elect a new prime minister after outgoing leader Peter O'Neill resigned following weeks of political turmoil sparked by..
Reuters - Published
Reports of suspected typhoid outbreak on Manus Island
Reports are emerging from Manus Island that asylum seekers have been flown to Port Moresby after contracting typhoid fever.
SBS - Published
Search this site and the web:
You Might Like