Electrical Trades Union of Australia
Australian trade union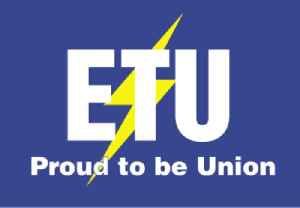 The Electrical Trades Union of Australia (ETU) is a trade union in Australia which has a history stretching back over 100 years. In its modern form the ETU is a division of the Communications, Electrical and Plumbing Union (CEPU), although it is possibly the most well known of the three divisions. At a state registered level, the union often exists as a separately registered union as for example it does in Queensland.


Equal pay for women: WA's iron ore industry has shown the way forward
In the 1980s, I was Electrical Trades Union convenor in northern WA and the view was simple: "if women are sparkies, they are as entitled as everyone else".
The Age - Published
Search this site and the web:
You Might Like