Malaysia
Country in Southeast Asia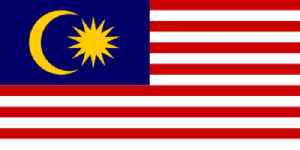 Malaysia is a country in Southeast Asia. The federal constitutional monarchy consists of thirteen states and three federal territories, separated by the South China Sea into two regions, Peninsular Malaysia and Borneo's East Malaysia. Peninsular Malaysia shares a land and maritime border with Thailand and maritime borders with Singapore, Vietnam, and Indonesia. East Malaysia shares land and maritime borders with Brunei and Indonesia and a maritime border with the Philippines and Vietnam. Kuala Lumpur is the national capital and largest city while Putrajaya is the seat of the federal government. With a population of over 32 million, Malaysia is the world's 43th-most populous country. The southernmost point of continental Eurasia is in Tanjung Piai. In the tropics, Malaysia is one of 17 megadiverse countries, home to a number of endemic species.


Police visit site of Nora Anne Quoirin's death ahead of inquest

Malaysian police and investigators returned to the Dusun resort near Seremban,where UK teenager Nora Anne Quoirin was found dead last year.
Credit: PA - Press Association STUDIO Duration: 01:32
Published
Indian, Vietnamese & Tibetan community hold anti-China protest in Washington

Members of the Indian, Vietnamese and the Tibetan communities held a protest outside the Capitol Hill in Washington against China. The protesters were holding anti-China posters, urging people to..
Credit: HT Digital Content Duration: 02:56
Published
Malaysia sentences Najib Razak to years in prison

Former Malaysian Prime Minister Najib Razak has been sentenced to serve 12 years in jail after a court in Kuala Lumpur found him guilty of corruption in the first of several cases linked to the alleged..
Credit: Al Jazeera STUDIO Duration: 04:36
Published
Malaysia's Ex-PM Convicted On Seven Counts

A Malaysian court has found former Prime Minister Najib Razak guilty. The verdict came in on Tuesday in Najib's first corruption trial over the multibillion-dollar looting of the 1MDB investment fund...
Credit: Wochit News Duration: 00:30
Published
Malaysia's Najib gets 12 years in jail for 1MDB-linked graft case

In landmark verdict, Najib Razak becomes the first Malaysian leader to be convicted of corruption.
Credit: Al Jazeera STUDIO Duration: 05:23
Published
Malaysia's Najib guilty of all charges in 1MDB-linked graft case

First in series of cases against former prime minister test country's effort to stamp out corruption in government.
Credit: Al Jazeera STUDIO Duration: 03:28
Published
Malaysia finds Rohingya feared drowned hiding on island

Malaysia has stepped up patrols around its maritime borders as Rohingya attempt to reach the country by boat.
Credit: Al Jazeera STUDIO Duration: 01:56
Published
Buy A Rice Cooker

In case you don't feel like watching, it's Malaysian comedian Nigel Ng's alter ego Uncle Roger losing his shit at a BBC Food show, in which the host completely fucked up cooking Egg Fried Rice...
Credit: Wochit News Duration: 00:33
Published
Explained: South China Sea's troubled waters

U.S. rhetoric is heating up on the South China Sea, a constant source of friction between China and five of its neighbours. Megan Revell unpicks the issue.
Credit: Reuters - Politics Duration: 02:52
Published
Mozilla's VPN launches out of beta on Windows and Android

Mozilla's VPN service has been officially launched and is now available for Windows and Android in six countries worldwide, including the US, Canada, and the UK, the company announced today. According..
Credit: ANI Duration: 01:10
Published
Malaysiakini editor arrives at court for hearing

The editor-in-chief of Malaysiakini, a leading independent Malaysian news portal, arrived in court on Monday to face contempt proceedings over readers' comments, in a case that has been widely seen as..
Credit: Reuters Studio Duration: 01:05
Published
Al Jazeera journalists questioned over Malaysia documentary

Team were summoned to police headquarters for probe into charges of alleged sedition and defamation.
Credit: Al Jazeera STUDIO Duration: 02:28
Published
King upholds Muhyiddin as Malaysia PM in brief Parliament sitting

All but state media barred from session, first since Muhyiddin took power, with king's speech only item on agenda.
Credit: Al Jazeera STUDIO Duration: 02:20
Published
You Might Like



Malaysia could send Rohingya detainees back out to sea: sources

Malaysia is considering a plan to send nearly 300 Rohingya Muslim refugees detained after arriving on a damaged boat back out to sea once the ship has been fixed, two security sources told Reuters on..




Reuters - Published





Malaysia PM paves way for year-end snap poll: report

Malaysian Prime Minister Muhyiddin Yassin is preparing for snap election by the end of the year, Singapore's Straits Times newspaper said, as he seeks a firm mandate amid uncertainty over how much..




Reuters - Published





Malaysia bars citizens from haj pilgrimage on coronavirus fears

Malaysia said on Thursday its citizens would be barred from making the haj pilgrimage this year due to concerns over the new coronavirus, following in the steps of neighbouring Indonesia, which is also..




Reuters - Published





Malaysia reports 31 new coronavirus cases; no new deaths

Malaysian health authorities on Thursday reported 31 new coronavirus cases, raising the cumulative total to 8,369 cases.




Reuters - Published




Malaysia resumes travel, haircuts and retail therapy as coronavirus curbs ease

Hair salons and shopping malls reopened, traffic jams returned and interstate travel resumed in Malaysia on Wednesday in a further easing of coronavirus restrictions to revive an economy hard hit by..




Reuters - Published





Malaysia to reopen schools in stages from June 24: minister

Malaysia will begin reopening schools from June 24, its education minister said on Wednesday, as the country enters recovery mode after three months of strict curbs on movement and businesses to..




Reuters - Published





Malaysian prosecutors drop corruption charges against Najib ally

Malaysian government prosecutors withdrew corruption charges on Tuesday against an ally of former premier Najib Razak, whose party returned to power in a new coalition three months ago after having..




Reuters - Published





Malaysia to ask Bangladesh to take back Rohingya refugees found at sea

Malaysia will ask Bangladesh to take back about 300 Rohingya refugees detained after a boat carrying them entered its waters this week, the southeast Asian nation's defence minister said on Tuesday.




Reuters - Published





Malaysia to reopen most economic activity with virus outbreak 'under control'

Malaysia on Sunday said it would reopen nearly all economic activity and allow interstate travel starting June 10, lifting coronavirus restrictions imposed nearly three months ago as it moves to revive..




Reuters - Published




Malaysian ex-PM Najib faces July verdict in first 1MDB-linked trial

A Malaysian court will deliver its verdict in a case against former prime minister Najib Razak on July 28, the first of several corruption trials he faces over a multibillion-dollar scandal at state..




Reuters - Published





Malaysia reports 30 new COVID-19 infections

Malaysia reported 30 new COVID-19 infections on Saturday, taking the cumulative total to 7,762.




Reuters - Published





Singapore says Malaysia wants further deferral of joint rail project

Singapore said on Friday it was reviewing a request by neighbouring Malaysia to further suspend a high speed rail project set to link the city-state to Malaysia's capital Kuala Lumpur.




Reuters - Published





Malaysia's ruling party dumps Mahathir, dissenters

Malaysian Prime Minister Muhyiddin Yassin's ruling party on Thursday terminated the membership of his predecessor Mahathir Mohamad, a move widely seen as an attmept to consolidate power as he faces a..




Reuters - Published





Swiss trial begins of banker alleged to have ignored 1MDB warnings

A banker went on trial in Switzerland on Tuesday charged with failing to sound the alarm over millions of dollars linked to scandal-tainted Malaysian sovereign wealth fund 1MDB.




Reuters - Published





'A sad mood': Muslim doctor in Malaysia spends Eid in hospital amid pandemic

Malaysian doctor Muhammad Syahidd Al-Hatim was used to being away from his family on Eid al-Fitr, having spent the past two years celebrating the end of the holy Ramadan fasting month at Kuala Lumpur..




Reuters - Published





Malaysia says second virus cluster breaks out at migrant detention centers

A new cluster of coronavirus infections has broken out in Malaysia at a detention center for undocumented migrants, authorities said on Saturday.




Reuters - Published




Rohingya targeted in Malaysia as coronavirus stokes xenophobia

Eleyas, a Rohingya Muslim, fled to Malaysia six years ago, seeking a safe haven from persecution in Myanmar.




Reuters - Published





Malaysia PM in home quarantine after officer tests positive for COVID-19

Malaysian Prime Minister Muhyiddin Yassin will be home quarantined for 14 days after an officer who attended a meeting with him this week tested positive for the new coronavirus, the prime minister's..




Reuters - Published





Mahathir promises 'very big trouble' for Malaysia's ruling coalition

Veteran Malaysian politician Mahathir Mohamad said he would seek to oust Prime Minister Muhyiddin Yassin at every turn, scolding his successor for bringing back into power a graft-tainted party..




Reuters - Published





Myanmar says eight coronavirus cases among returnees from Malaysia

Myanmar authorities said on Tuesday said they have found eight coronavirus cases among scores of people who returned from Malaysia, where the authorities have recently been detaining undocumented..




Reuters - Published





Stepson of Malaysian ex-PM Najib could testify against him in 1MDB trial -prosecutors

Riza Aziz, the stepson of former Malaysian prime minister Najib Razak, has agreed to testify against the ex-premier in a trial linked to a multibillion-dollar fraud at state fund 1Malaysia Development..




Reuters - Published





Empty middle seat? Depends on which country you are flying in

In Thailand, you cannot have food or water in flight and must wear a mask. In Malaysia and Indonesia, the plane needs to be half-empty. In the United States and Europe, it's not mandatory for airlines..




Reuters - Published





Malaysia's king upholds PM's appointment as opposition mounts challenge

Malaysia's king on Monday said the appointment of Muhyiddin Yassin as prime minister during turmoil this year was proper and constitutional, days after parliament put off a vote on an opposition..




Reuters - Published





Chinese ship leaves Malaysian waters after month-long South China Sea standoff

A Chinese survey ship that had been involved in a month-long standoff with a Malaysian oil exploration vessel in the South China Sea has left Malaysia's exclusive economic zone (EEZ), shipping data..




Reuters - Published





Separated by coronavirus, Malaysian mothers in Singapore freeze breast milk for babies at home

Before the outbreak of coronavirus this year, Malaysian accountant Jazerel See used to travel regularly between her country's southern state of Johor and neighbouring Singapore where she worked, going..




Reuters - Published





Malaysia to recover $107.3 mln after settling 1MDB case against 'Wolf of Wall Street' producer

Prosecutors dropped money-laundering charges against Riza Aziz - a Hollywood producer and the stepson of Malaysia's former prime minister Najib Razak - on Thursday after a deal that officials said..




Reuters - Published




Malaysia to allow mass prayers ahead of Eid as coronavirus cases fall

Muslim-majority Malaysia will ease a ban on mass prayers in mosques, starting from Friday and ahead of this month's Eid festival, the government said, as it gradually relaxes curbs that have helped..




Reuters - Published





Malaysia drops 1MDB money laundering case against "Wolf of Wall Street" producer

Malaysian prosecutors on Thursday dropped a $248-million money laundering case against a producer of Hollywood film "The Wolf of Wall Street" and the stepson of former Malaysian prime minister Najib..




Reuters - Published





Malaysian PM delays confidence vote citing virus battle, Mahathir cries foul

Malaysian Prime Minister Muhyiddin Yassin will not face a confidence vote on May 18 as scheduled, the speaker of parliament said on Wednesday after the government said the battle against the..




Reuters - Published




Malaysia seizes hundreds of migrants in latest lockdown raid

Malaysia has detained 1,368 undocumented migrants in an area under lockdown in the latest such raid despite fears the crackdown could push vulnerable people into hiding and increase the risk of..




Reuters - Published





For Malaysian schoolgirl, homework is sewing PPE gowns to help beat coronavirus

For a nine-year-old Malaysian schoolgirl, the new coronavirus was hard to fathom. But Nur Afia Qistina Zamzuri knew one thing for sure: It was dangerous.




Reuters - Published