Amal Clooney
British-Lebanese barrister, activist and author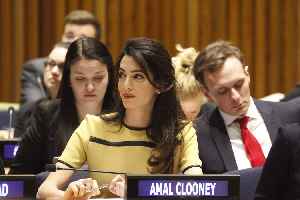 Amal Clooney is a Lebanese-British barrister at Doughty Street Chambers, specialising in international law and human rights. Her clients include Julian Assange, the founder of WikiLeaks, in his fight against extradition; the former prime minister of Ukraine, Yulia Tymoshenko; Egyptian-Canadian journalist Mohamed Fahmy; and Nobel Prize laureate Nadia Murad.


Amal Clooney issues warning to Australia over press freedom
Human rights lawyer Amal Clooney has criticised police raids on Australian journalists at a press freedom conference attended by Foreign Minister Marise Payne.
SBS - Published
Amal Clooney warns Australia's media raids gives oppressive leaders 'excuse' to clamp down
Foreign Minister Marise Payne has denied accusations of hypocrisy for speaking at a conference promoting press freedom amid the debate raging back home.
SBS - Published
Bogged down in Brexit, Britain tries to flex G7 muscles
When Jeremy Hunt sat down on Friday with rights lawyer Amal Clooney to advocate better protection for journalists, Britain's foreign minister was at pains to stress its enduring importance on the world..
Reuters - Published
Rights lawyer Amal Clooney leads push to protect journalists
International human rights lawyer Amal Clooney will help lead a British-Canadian push to defend journalists from attacks and restrictions around the world, ministers said on Friday.
Reuters - Published
Search this site and the web:
You Might Like