Algiers
Capital City in Algiers Province, Algeria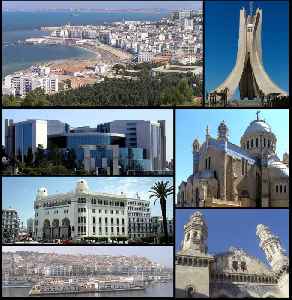 Algiers is the capital and largest city of Algeria. In 2011, the city's population was estimated to be around 3,500,000. An estimate puts the population of the larger metropolitan city to be around 5,000,000. Algiers is located on the Mediterranean Sea and in the north-central portion of Algeria.


Algerians defiant in first protest since election call
Tens of thousands of demonstrators marched in the center of Algiers on Friday in the first significant test of the months-old protest movement since the government called an election for December, a..
Reuters - Published
Five people killed in stampede at Algiers rap concert
At least five people were killed in a stampede at a packed rap concert in the Algerian capital on Thursday night, a hospital source said.
Reuters - Published
Algerian justice minister fired amid anti-graft investigations
Algeria's interim president fired the justice minister on Wednesday and named the Algiers public prosecutor to replace him, the presidency said, amid a series of corruption investigations involving..
Reuters - Published
Algerian protesters return to streets for demand reforms
Tens of thousands of Algerians returned to the streets in the capital Algiers and other cities on Friday to demand radical political reforms and the departure of the ruling elite.
Reuters - Published
Algeria prosecutor refers ex-PM to supreme court over alleged corruption: statement
An Algerian prosecutor has referred former prime minister Ahmed Ouyahia, a current minister and two ex-ministers to the supreme court over corruption allegations, the Algiers public prosecutor's office..
Reuters - Published
Algerian court orders detention of partner of Germany's VW: state TV
A judge at a court in Algiers on Monday ordered the detention of Mourad Eulmi, head of the family-owned firm SOVAC, a partner of Germany's Volkswagen AG, over corruption allegations, state TV reported.
Reuters - Published
Algeria ex-PM Ouyahia appears in court in second alleged corruption case: state TV
Algerian former prime minister Ahmed Ouyahia appeared in a court in Algiers on Sunday to be questioned over alleged corruption involving the partner in Algeria of Germany's Volkswagen, state TV said.
Reuters - Published
You Might Like