JPMorgan Chase
American multinational banking and financial services holding company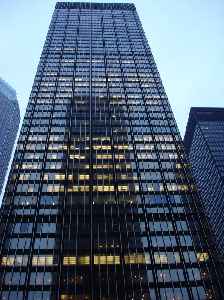 JPMorgan Chase & Co. is an American multinational investment bank and financial services holding company headquartered in New York City. JPMorgan Chase is ranked by S&P Global as the largest bank in the United States and the seventh largest bank in the world by total assets, with total assets of US$3.213 trillion. It is also the world's most valuable bank by market capitalization. JPMorgan Chase is incorporated in Delaware.


JPMorgan pledges $30 billion to address racial wealth gap

JPMorgan Chase & Co said on Thursday it would commit $30 billion to address racial inequality over the next 5 years, marking one of the largest corporate pledges related to race since the death of..
Credit: Reuters - Politics Duration: 01:13
Published
JPMorgan: The S&P 500 Will Surge 12% In Sept. 2021

On Tuesday, JPMorgan's Grace Peters told CNBC's "Squawk Box Europe" the S&P 500 could hit 3,750 by September 2021. Business Insider reports that would represent a 12% premium over Tuesday's closing..
Credit: Wochit News Duration: 00:28
Published
JP Morgan to move $230 bln out of UK - source

JP Morgan is set to move $230 billion out of the UK ahead of the end of the Brexit transition period, according to a Reuters source. Julian Satterthwaite reports.
Credit: Reuters Studio Duration: 01:17
Published
How Much Higher Could The S&P500 Climb?

According to Business Insider, JPMorgan expects the S&P 500 to rise another 6% from current levels to a record 3,600 before the year is over. The S&P500's earnings recovery is "ahead of expectation."..
Credit: Wochit News Duration: 00:28
Published
Pick up home builders stocks: strategist

National Securities' Art Hogan recommends investors buy home builders stocks following the recent sell-off. He also tells Reuters' Fred Katayama why he likes the prospects for JPMorgan Chase and Apple.
Credit: Reuters Studio Duration: 05:41
Published
You Might Like