Tel Aviv
City in Israel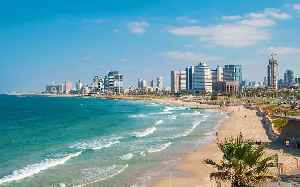 Tel Aviv-Yafo, often referred to as just Tel Aviv, is the most populous city in the Gush Dan metropolitan area of Israel. Located on the Israeli Mediterranean coastline and with a population of 460,613, it is the economic and technological center of the country. If East Jerusalem is considered part of Israel, Tel Aviv is the country's second most populous city after Jerusalem; if not, Tel Aviv is the most populous city before West Jerusalem.


Drone Made It Rain Weed: Tel Aviv

A drone over Tel Aviv's Rabin Square dropped hundreds of bags of weed on Thursday, setting off a mad scramble by onlookers to stock up, the Jerusalem Post reported. According to the Post, the..
Credit: Wochit News Duration: 00:32
Published
Weed from on high in Tel Aviv drone drop

Marijuana activists in Israel drop weed baggies from a drone over Tel Aviv on Thursday in a bid to legalize cannabis. Gavino Garay has more.
Credit: Reuters Studio Duration: 00:48
Published
On board the historic Tel Aviv-Abu Dhabi flight

An El Al Boeing 737 carrying senior U.S. and Israeli aides made aviation history by cutting straight over Saudi territory en route to Abu Dhabi on Monday for normalisation talks. Emer McCarthy reports.
Credit: Reuters - Politics Duration: 02:00
Published
Israel, UAE announce normalisation of relations with US help

Israel and UAE to establish full diplomatic ties, as Tel Aviv says deal will 'delay' annexation of Palestinian lands.
Credit: Al Jazeera STUDIO Duration: 02:53
Published
Lebanese diaspora holds vigil to honour victims of Beirut blast

Vigils for the victims of the Beirut blast were held in Tel Aviv, the Palestinian Territories, Tehran, Paris and London. View on euronews
Credit: euronews (in English) Duration: 01:50
Published
You Might Like
Drone Drops Bags of Free Weed Over Tel Aviv
It's cloudy with a chance of cannabis in Tel Aviv ... a drone dropped bags of weed over a city square, sending folks running into the streets for the gratis greens. Dank started dropping from the skies..
TMZ.com - Published
Tel Aviv has spring in its step again, but businesses face new costs
Israel's main coastal city has returned to work - and play - but the coronavirus pandemic has brought new challenges that will weigh heavily on Tel Aviv's restaurants, bars and other businesses..
Reuters - Published
China's ambassador to Israel found dead in Tel Aviv home: police
China's ambassador to Israel was found dead in his home in a Tel Aviv suburb on Sunday, an Israeli police spokesman said.
Reuters - Published
Fly-past, flags on rooftops mark Israel's independence day under lockdown
Military jets flew in formation over Tel Aviv's deserted parks and streets on Wednesday, cheered on from rooftops by flag-waving residents in face masks as Israel marked its independence day under..
Reuters - Published
Parking lot prayers: Muslims in Jaffa and Jerusalem improvise for Ramadan
Shortly after sunset, Muslims in the ancient Israeli port city of Jaffa filed quietly into an empty parking lot for Ramadan prayers, after the coronavirus outbreak forced mosques to close in Israel and..
Reuters - Published
Israeli court orders Facebook to unblock account of NSO Group employee
A Tel Aviv court ordered Facebook Inc to unblock the private account of a worker at Israeli surveillance company NSO Group, and similar rulings are expected for other employees in the coming days, an..
Reuters - Published
Israeli mayor orders Palestinian 'surrender' billboards removed
The mayor of Tel Aviv ordered the removal on Friday of highway billboards that appeared to call for the surrender at gunpoint of Palestinian leaders for the sake of peace.
Reuters - Published
Israel braces for Iranian retaliation after Soleimani assassination
Israel's defense minister summoned the country's military and security chiefs to Tel Aviv on Friday in the wake of the U.S. air strike that killed senior Iranian Quds Force commander Qassem Soleimani.
Reuters - Published
Israel kills Islamic Jihad commander, rockets rain from Gaza
Israel killed a top commander from the Iranian-backed Palestinian militant group Islamic Jihad in a rare targeted strike in the Gaza Strip on Tuesday, drawing retaliatory rocket salvoes that reached as..
Reuters - Published