Frank Bainimarama
21st-century Prime Minister of Fiji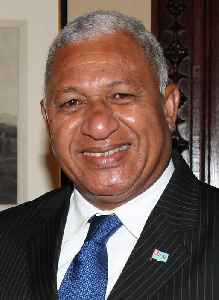 Josaia Voreqe Bainimarama Fijian: [tʃoˈsɛia βoˈreŋɡe mbɛiniˈmarama] is the 8th and current prime minister of Fiji since 2007. He is commonly known as Frank Bainimarama and sometimes by the chief title Ratu. He was a naval officer and commander of the Fijian Military Forces.


Fiji battered by tropical cyclone

A powerful tropical cyclone battered the South Pacific island nation of Fiji on Wednesday, witnesses said, destroying buildings and causing injuries in the capital Suva. Emer McCarthy reports.
Credit: Reuters Studio Duration: 01:31
Published
You Might Like