Utah
State in the United States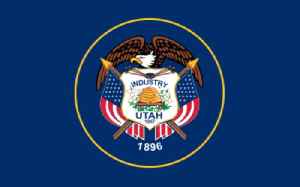 Utah is a state in the western United States. It became the 45th state admitted to the U.S. on January 4, 1896. Utah is the 13th-largest by area, 30th-most-populous, and 11th-least-densely populated of the 50 United States. Utah has a population of more than 3 million according to the Census estimate for July 1, 2016. Urban development is mostly concentrated in two areas: the Wasatch Front in the north-central part of the state, which contains approximately 2.5 million people; and Washington County in Southern Utah, with over 160,000 residents. Utah is bordered by Colorado to the east, Wyoming to the northeast, Idaho to the north, Arizona to the south, and Nevada to the west. It also touches a corner of New Mexico in the southeast.


Bus filled with Chinese tourists crashes in Utah; four killed
A bus carrying Chinese tourists careened off a road and crashed near Bryce Canyon National Park in Utah on Friday, killing four people and injuring the remaining 26 people aboard, several of them..
Reuters - Published
At least four dead, 12 critically injured, in Utah tour bus crash
A bus carrying Chinese-speaking tourists crashed on Friday near Bryce Canyon National Park in Utah, killing at least four people and critically injuring 12 to 15 others, the state Highway Patrol..
Reuters - Published
Shall We Dance? BYU To Allow Same-Sex Dance Partners In Ballroom Contest
Utah's Brigham Young University will allow same-sex couples to compete in its annual ballroom dance competition. HuffPost reports BYU was required to lift its ban on same-sex couples competing in the..
Credit: Wochit News Duration: 00:39Published
U.S. lawmakers unconvinced by Trump Iran argument, set war powers vote
Trump administration officials failed to convince many U.S. lawmakers on Wednesday that an imminent threat had justified the killing of a top Iranian military commander, and congressional Democrats..
Credit: Reuters - Politics Duration: 02:45Published
Sen. Lee slams Trump administration briefing on Iran crisis
Republican Senator Mike Lee said on Wednesday that a briefing from Trump administration officials on the killing of an Iranian commander in Iraq was "probably the worst briefing I've seen, at least..
Credit: Reuters Studio Duration: 02:45Published
Cheaters In These Nine States May Want To Reconsider
In Georgia cheaters don't receive alimony. Cheating in Michigan can lead to a life sentence in prison. Cheaters in Hawaii, Illinois, Mississippi, New Mexico, North Carolina, South Dakota or Utah..
Credit: Wochit News Duration: 00:32Published
Cool Customer: Corpse Found In Freezer With Notarized Letter
Jeanne Souron-Mathers died in November, in Tooele, Utah. But police were startled to find the body of her husband Paul in a chest freezer at the couple's home. Police also discovered a notarized letter..
Credit: Wochit News Duration: 00:37Published
Taylor Swift documentary to open 2020 Sundance Film Festival
Taylor Swift's new Netflix documentary will premiere at the Sundance Film Festival in Utah next month following a war of words with her former label bosses.
Credit: Cover Video STUDIO Duration: 00:44Published
Search this site and the web:
You Might Like