Utah
State in the United States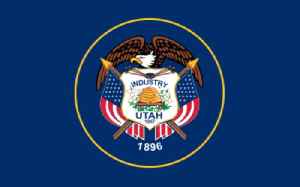 Utah is a state in the western United States. It is bordered by Colorado to the east, Wyoming to the northeast, Idaho to the north, Arizona to the south, and Nevada to the west. It also touches a corner of New Mexico in the southeast. Of the fifty U.S. states, Utah is the 13th-largest by area, and with a population over three million, the 30th-most-populous and 11th-least-densely populated. Urban development is mostly concentrated in two areas: the Wasatch Front in the north-central part of the state, which is home to roughly two-thirds of the population, and Washington County in the south, with more than 170,000 residents. Most of the western half of Utah lies in the Great Basin.


You Might Like
Utah Hiker Stalked by Cougar for 6 Minutes, Miraculously Survives
A man adventuring through a Utah hiking trail stumbled across perhaps the worst thing you could find in the wild -- a big cat predator -- which tracked him for 6 terrifying minutes. Kyle Burgess posted..
TMZ.com - Published
13-Year-Old with Asperger's Shot by SLC Police, Body Cam Shows
An autistic teen was shot by police in Utah, leaving him seriously injured ... and cops are now releasing the body cam footage of the incident. 13-year-old Linden Cameron's mother called the cops..
TMZ.com - Published
Record-Holding Motorcycle Racer Dead At 69 After 252-MPH Crash
Tragic news in the motorcycle racing world ... veteran rider Ralph Hudson died Sunday from injuries he suffered after crashing his bike at 252 MPH. The 69-year-old was hurt on Aug. 14 at the Bonneville..
TMZ.com - Published
Machine Gun Kelly Is Awesome at Wakesurfing in Lake Powell
Machine Gun Kelly has mad skills on a wakeboard ... as he proved Friday on a famous Utah lake. MGK and his daughter were vacationing at Lake Powell, and Dad showed off his moves behind a boat that..
TMZ.com - Published
Mormon church to open first temple in mainland China
The Utah-based Church of Jesus Christ of Latter-day Saints, also known as the Mormon church, plans to open its first temple in mainland China at a time when Beijing has been clamping down steadily on..
Reuters - Published
Bus filled with Chinese tourists crashes in Utah; four killed
A bus carrying Chinese tourists careened off a road and crashed near Bryce Canyon National Park in Utah on Friday, killing four people and injuring the remaining 26 people aboard, several of them..
Reuters - Published
At least four dead, 12 critically injured, in Utah tour bus crash
A bus carrying Chinese-speaking tourists crashed on Friday near Bryce Canyon National Park in Utah, killing at least four people and critically injuring 12 to 15 others, the state Highway Patrol..
Reuters - Published