ExxonMobil
American multinational oil and gas corporation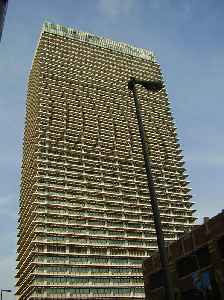 Exxon Mobil Corporation, doing business as ExxonMobil, is an American multinational oil and gas corporation headquartered in Irving, Texas. It is the largest direct descendant of John D. Rockefeller's Standard Oil, and was formed on November 30, 1999 by the merger of Exxon and Mobil. ExxonMobil's primary brands are Exxon, Mobil, Esso, and ExxonMobil Chemical. ExxonMobil is incorporated in Texas.


Exxon signals 2nd straight quarterly loss

Exxon Mobil signaled it'll suffer its second consecutive quarterly loss. As Fred Katayama reports, its oil and gas producing and refining businesses will report operating losses in the second quarter.
Credit: Reuters Studio Duration: 01:05
Published
You Might Like
Exxon Equatorial Guinea offshore workers test positive for coronavirus -sources
Thirty workers at an ExxonMobil-operated offshore oil platform in Equatorial Guinea have tested positive for the new coronavirus, two sources close to the ministry told Reuters.
Reuters - Published
Nigerian oil union suspends industrial action after Exxon Mobil workers freed
A major Nigerian oil union has suspended planned industrial action after 21 Exxon Mobil Corp. employees quarantined last week after their arrest for violating coronavirus-related movement restrictions..
Reuters - Published
Nigeria's oil hub frees 22 quarantined Exxon Mobil workers
Nigeria's Rivers State has freed 22 Exxon Mobil Corp. employees quarantined last week after their arrest for violating an order restricting movement into the state to curb the spread of the..
Reuters - Published
Islamic State claims Mozambique attack close to gas projects
Militant group Islamic State has claimed responsibility for an attack in northern Mozambique just south of the site of gas projects worth $60 billion being developed by the likes of Exxon Mobil and..
Reuters - Published
Mozambique army, Islamist insurgents battle in town close to gas projects: police
Mozambique's army is battling Islamist insurgents in a town in the country's north, close to billion-dollar gas projects being developed by Exxon Mobil and Total, police said.
Reuters - Published
Oil majors request more Mozambique troops after Islamist attacks: sources
Exxon Mobil Corp and Total have asked Mozambique to send more troops to guard their operations in the far north after a surge of attacks by Islamist militants, an industry source and two security..
Reuters - Published
Guyana opposition candidate pledges to keep Exxon contract intact
Exxon Mobil's oil contract with Guyana would be exempt from a review of the South American nation's deals if the opposition wins the March 2 election, the party's top candidate said.
Reuters - Published
Staff evacuated as rocket strikes near foreign oil firms in Iraq
A rocket hit a site in southern Iraq used by foreign oil companies on Wednesday, including U.S. energy giant ExxonMobil, wounding three people and threatening to further escalate U.S.-Iran tensions in..
Reuters - Published
Rocket hits site of foreign oil firms in Iraq's Basra, three hurt
A rocket struck the site of the residential and operations headquarters of several global major oil companies, including U.S. giant ExxonMobil, near Iraq's southern city of Basra early on Wednesday,..
Reuters - Published