Antarctica
Polar continent in the Earth's southern hemisphere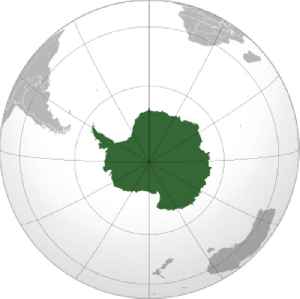 Antarctica is Earth's southernmost continent. It contains the geographic South Pole and is situated in the Antarctic region of the Southern Hemisphere, almost entirely south of the Antarctic Circle, and is surrounded by the Southern Ocean. At 14,200,000 square kilometres, it is the fifth-largest continent and nearly twice the size of Australia. At 0.00008 people per square kilometre, it is by far the least densely populated continent. About 98% of Antarctica is covered by ice that averages 1.9 km in thickness, which extends to all but the northernmost reaches of the Antarctic Peninsula.


Australia re-commits to keeping Antarctic free of mining, military
Signatories of the Antarctic Treaty, including Australia, have renewed their 60-year commitment to keep the continent free of military and mining activities.
SBS - Published
Aussie researchers plan Antarctic swim
Australian researchers on Antarctica are planning to take a dip in the frozen continent's icy waters to mark the winter solstice.
SBS - Published
Watch: Aurora borealis light up Antarctic sky and ice
The green polar lights threw light across the ice. They are caused by disturbances in the magnetosphere by solar wind, causing particles to move into the upper atmosphere and emit light.
Credit: euronews (in English) Duration: 00:20Published
Aurora dances brightly above Zhongshan Station in Antarctica
The aurora is a natural light predominantly seen in the high-latitude regions around the Arctic and Antarctic. It is caused by disturbances in the magnetosphere by the solar wind, which is a stream of..
Credit: euronews (in English) Duration: 00:50Published
Bardem takes fight to protect oceans to U.N.
Spanish actor Javier Bardem said during an interview with Reuters on Monday that his experience of traveling through the Antarctic made him realize just how "fragile" the ecosystem is. Bardem later..
Credit: Reuters Studio Duration: 01:33Published
Satellites reveal drought, Antarctic woes
New satellite data processed by Australian scientists has painted a troubling picture of drought across the mainland and Tasmania, and ice loss in Antarctica.
SBS - Published
Antarctic's world-first VR experience
A world-first virtual reality project is being developed in Adelaide, showing the effects of climate change and Sir Ernest Shackleton historical polar journey.
SBS - Published
Aust Antarctic base turns to solar power
More than 100 solar panels will help power Australia's Casey Research Station in Antarctica.
SBS - Published
Search this site and the web:
You Might Like