Judaism
The ethnic religion of the Jewish people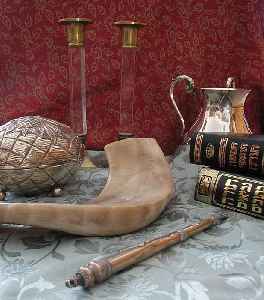 Judaism is an ethnic religion comprising the collective religious, cultural and legal tradition and civilization of the Jewish people. Judaism is considered by religious Jews to be the expression of the covenant that God established with the Children of Israel. It encompasses a wide body of texts, practices, theological positions, and forms of organization. The Torah is part of the larger text known as the Tanakh or the Hebrew Bible, and supplemental oral tradition represented by later texts such as the Midrash and the Talmud. With between 14.5 and 17.4 million adherents worldwide, Judaism is the tenth largest religion in the world.


Faith leaders press PM on climate action
Christian, Hindu, Buddhist, Jewish, Muslim and other faith leaders have written to Prime Minister Scott Morrison urging him to heed climate science.
SBS - Published
Khamenei: Iran not calling for elimination of Jews, wants non-sectarian Israel
Iran is not calling for the elimination of Jewish people, but it thinks people of all religions should decide Israel's future, Iranian Supreme Leader Ayatollah Ali Khamenei said on Friday in a speech..
Reuters - Published
Israelis take to frond-covered huts as Jewish high holy days wind down
With the Jewish high holy days winding down, many Israelis can be found dining, socializing and even sleeping in frond-covered huts erected on their balconies or in their back yards.
Reuters - Published
Gunman kills two in livestreamed attack at German synagogue
A gunman who denounced Jews opened fire outside a German synagogue on Yom Kippur, the holiest day of the Jewish year, and killed two people as he livestreamed his attack.
Reuters - Published
Gunman livestreams shooting at synagogue in Germany, kills two
A gunman killed two people in a synagogue and a nearby kebab shop on Yom Kippur, the holiest day of the Jewish year, in an attack in the German city of Halle that he livestreamed on a video-gaming..
Reuters - Published
Court orders Canada's elections chief to reconsider changing date of federal vote
A judge said on Tuesday that Canada's chief electoral officer (CEO) must reconsider the Oct. 21 date for the federal election because it coincides with a Jewish holiday, according to a copy of the..
Reuters - Published
Christchurch shooting: From another point of view
Leaders of New Zealand's Muslim and Jewish communities will be present at a ceremony on Wednesday in Christchurch.
The Age - Published
Ultra-nationalist Jews' visit stokes Palestinian anger at Jerusalem holy site
Hundreds of ultra-nationalist Jews guarded by riot police streamed their way into the Jerusalem compound revered both in Judaism and Islam on Sunday, resulting in violence between police and outraged..
Reuters - Published
You Might Like