Judaism
The ethnic religion of the Jewish people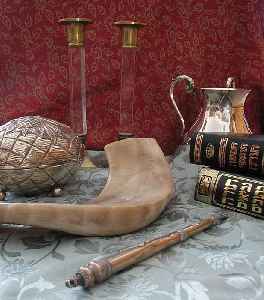 Judaism is the ethnic religion of the Jewish people. It is an ancient, monotheistic, Abrahamic religion with the Torah as its foundational text. It encompasses the religion, philosophy, and culture of the Jewish people. Judaism is considered by religious Jews to be the expression of the covenant that God established with the Children of Israel. It encompasses a wide body of texts, practices, theological positions, and forms of organization. The Torah is part of the larger text known as the Tanakh or the Hebrew Bible, and supplemental oral tradition represented by later texts such as the Midrash and the Talmud. With between 14.5 and 17.4 million adherents worldwide, Judaism is the tenth largest religion in the world.


Court orders Canada's elections chief to reconsider changing date of federal vote
A judge said on Tuesday that Canada's chief electoral officer (CEO) must reconsider the Oct. 21 date for the federal election because it coincides with a Jewish holiday, according to a copy of the..
Reuters - Published
Christchurch shooting: From another point of view
Leaders of New Zealand's Muslim and Jewish communities will be present at a ceremony on Wednesday in Christchurch.
The Age - Published
Evangelicals harvest land in settlements Israel hopes to annex
U.S. evangelicals have been a core support base for President Donald Trump since the 2016 election. Many are also staunch supporters of Israel, seeing a biblical connection with the Jewish people and..
Credit: Reuters Studio Duration: 01:59Published
Tension at Al-Aqsa compound as Muslim, Jewish festivals overlap
Israeli police fire tear gas and rubber bullets to clear worshippers from flashpoint site in occupied East Jerusalem.
Credit: Al Jazeera STUDIO Duration: 02:44Published
Palestinians and Israeli police clash at Jerusalem holy site
Israeli police fired sound grenades to disperse Palestinians during confrontations on Sunday (August 11) outside Jerusalem's al-Aqsa mosque. Rough cut (no reporter narration).
Credit: Reuters Studio Duration: 00:46Published
Ultra-nationalist Jews' visit stokes Palestinian anger at Jerusalem holy site
Hundreds of ultra-nationalist Jews guarded by riot police streamed their way into the Jerusalem compound revered both in Judaism and Islam on Sunday, resulting in violence between police and outraged..
Reuters - Published
Jewish congress condemns revival of folk tradition in Poland as anti-Semitic
The World Jewish Congress has condemned as anti-Semitic the revival of a folk tradition of burning an effigy of Judas in the Polish town of Pruchnik.
Reuters - Published
Powerful Israeli religious parties may prevent needed budget restraint after election
Ultra-Orthodox Jewish parties did well in Israel's national election and will likely bring hefty demands for more government payouts to coalition talks, making it harder for Prime Minister Benjamin..
Reuters - Published
Search this site and the web:
You Might Like