Margot Robbie
Australian actress and film producer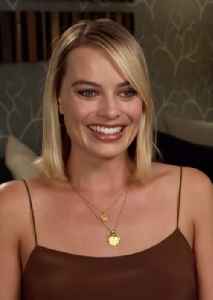 Margot Elise Robbie is an Australian actress and film producer. She has received nominations for two Academy Awards and five BAFTA Awards. In 2017, Time magazine named her one of the 100 most influential people in the world, and in 2019, she was ranked among the world's highest-paid actresses.


'Please donate to Australia': Stars use Golden Globes to call for bushfire aid
Nicole Kidman, Margot Robbie, Cate Blanchett and Toni Collette came up short at the Golden Globes.
SBS - Published
MOVIE REVIEW: Once Upon a Time in Hollywood
by Graham Pierrepoint - ONCE UPON A TIME IN HOLLYWOOD IMDb Dir: Quentin Tarantino Starring Leonardo DiCaprio, Brad Pitt, Margot Robbie, Emile Hirsch, Margaret Qualley, Timothy Olyphant, Austin..
One News Page Staff - Published
'Birds of Prey' Set for $50M-Plus Bow in North America | THR News
Starring Margot Robbie, the female-led superhero pic opens in theaters Feb. 7.
Credit: The Hollywood Reporter Duration: 01:19Published
Trending: Rock and Roll Hall of Fame reveal this year's inductions, Margot Robbie opens up about 'imposter syndrome', and Hugh G
In case you missed it, here's what's trending right now....
Credit: Cover Video STUDIO Duration: 00:53Published
Margot Robbie feels like an adult now
Margot Robbie left home when she was 17 but didn't truly feel like an adult until she'd learned to say no.
Credit: Bang Media World Duration: 01:10Published
Margot Robbie 'untethered' by fame
Margot Robbie felt "untethered" by fame, but says setting up her production company LuckyChap Entertainment helped ground her again.
Credit: Bang Media World Duration: 01:12Published
Margot Robbie among Golden Globes presenters
Margot Robbie, Charlize Theron, and Kit Harington are among the presenters at this year's Golden Globes, which take place on Sunday (05.01.20).
Credit: Bang Media World Duration: 01:06Published
Margot Robbie thought Neighbours was highest point of her career
Margot Robbie has admitted she thought 'Neighbours' was the pinnacle of her career when she landed the role as a teenager.
Credit: Bang Media World Duration: 00:59Published
'Bombshell' leads film nominees for SAG awards
A drama about sexual harassment allegations at Fox News scooped up four nominations for the Screen Actors Guild Awards on Wednesday. Reuters spoke to the creators and stars of "Bombshell" about the..
Credit: Reuters Studio Duration: 02:08Published
Margot Robbie believes Birds of Prey will show a personal side to Harley Quinn
Margot Robbie believes that 'Birds of Prey' will show a more "personal side" to her character, Harley Quinn.
Credit: Bang Media World Duration: 01:02Published
Premiere of sexual harassment film 'Bombshell'
Lead actresses Nicole Kidman, Charlize Theron and Margot Robbie were on the red carpet on Tuesday night (December 10), a day after Theron and Robbie were nominated for Golden Globes.
Credit: Reuters Studio Duration: 02:09Published
'Birds of Prey' Footage Unveiled at Comic Con in Brazil | THR News
Margot Robbie and the cast of the DC film appeared at Comic Con Experience to share a new trailer and the opening scene.
Credit: The Hollywood Reporter Duration: 01:22Published
Search this site and the web:
You Might Like