Gladys Berejiklian
Australian politician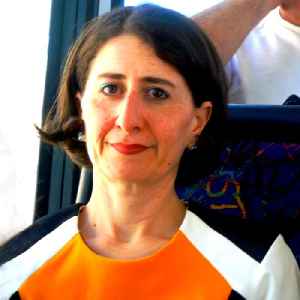 Gladys Berejiklian is an Australian politician serving as the 45th and current Premier of New South Wales and the Leader of the New South Wales Liberal Party, offices which she assumed on 23 January 2017 following the resignation of Mike Baird. She has been a member of the New South Wales Legislative Assembly since 2003, representing the seat of Willoughby.


NSW moves to block Black Lives Matter protest

Authorities in Australia's most populous state, New South Wales, are trying to block a Black Lives Matter protest in Sydney scheduled for Saturday, citing the risk of a coronavirus outbreak. Ryan..
Credit: Reuters Studio Duration: 01:43
Published
Australian states split over opening borders for domestic tourism

Australian state and territory leaders bickered on Thursday (May 21) over whether to reopen internal borders, a major step to rejuvenating the country's A$80 billion ($50 billion) domestic tourism..
Credit: Reuters Studio Duration: 01:15
Published
As Australia opens up, China dispute looms

Australian officials announced a raft of plans on Wednesday to speed up the resumption of public life across the country to boost the ailing economy. But it comes amid a diplomatic spat with major..
Credit: Reuters Studio Duration: 01:29
Published
Australia's biggest state to ease lockdown from Friday

Australia's most populous state, home to Sydney, will allow restaurants, playgrounds and outdoor pools to reopen on Friday as extensive testing has shown the spread of the coronavirus has slowed..
Credit: Reuters Studio Duration: 01:40
Published
You Might Like



NSW becoming too virus-lax: Berejiklian

Gladys Berejiklian has warned NSW residents they are becoming lax on social distancing and must keep alert to the COVID-19 risk but she won't shut the border.




SBS - Published





Gladys Berejiklian says don't 'interact with people from Melbourne' as Victoria records 17 more coronavirus cases

Victoria has recorded double-digit growth in new coronavirus cases for the seventh day in a row.




SBS - Published





Gladys Berejiklian flags tougher anti-vandalism laws as second Captain Cook statue defaced

The 110-year-old statue in Randwick was painted with the words "no pride in genocide" over the weekend.




SBS - Published





Australia's most populous state files suit to stop Black Lives Matter protest

Australia's most populous state has lodged a legal application to stop a Black Lives Matter protest occurring in Sydney, state Premier Gladys Berejiklian said on Friday.




Reuters - Published





Gladys Berejiklian announces 12-month wage freeze for NSW public sector workers

The NSW government will pause public sector pay rises for 12 months due to the COVID-19 pandemic and has promised to make no one redundant.




SBS - Published




School closures due to coronavirus the 'new normal', Gladys Berejiklian says

Two schools in Sydney's eastern suburbs have closed after positive coronavirus cases among two students as most children returned to classrooms full-time.




SBS - Published





NSW joins Victoria in asking people to keep working from home as coronavirus restrictions relax

Gladys Berejiklian says people need to continue to work from home if possible to keep NSW's restricted public transport from becoming overwhelmed.




SBS - Published





Gladys Berejiklian flags plan to get international students back to NSW universities

The NSW Premier says there is no reason why international students couldn't be brought back to Australia under strict hotel quarantine restrictions.




SBS - Published





NSW pushes to get international students back to regional universities before coronavirus travel bans lift

NSW Premier Gladys Berejiklian says there is no reason why international students couldn't be brought back to Australia under strict quarantine restrictions.




SBS - Published





Gladys Berejiklian confirms all NSW students will return to classrooms from next week

Students at NSW public schools will return to classroom teaching full time from May 25, two months after coronavirus forced them to study at home.




SBS - Published




Public school students in NSW will return to class full-time next Monday

Earlier this month NSW Premier Gladys Berejiklian said it was the government's "strong recommendation" that "face-to-face teaching needs to start".




SBS - Published





COAG clumsy, red tape needs cutting: NSW

NSW Premier Gladys Berejiklian says the interstate COAG forum needs an urgent revamp while calling for economic reform, the cutting of red tape and GST talks.




SBS - Published





Gladys Berejiklian says NSW kids should go to school, but there will be no penalties if they don't

The NSW Government has taken two days to release its plan to ease COVID-19 restrictions, which includes the start of face-to-face teaching at schools from Monday.




SBS - Published




Here's what you can do in NSW when coronavirus restrictions are lifted

NSW Premier Gladys Berejiklian on Sunday morning announced a relaxation of COVID-19 restrictions to come into play on Friday.




SBS - Published




NSW follows other states by relaxing some coronavirus restrictions from Friday

NSW Premier Gladys Berejiklian on Sunday morning announced a relaxation of COVID-19 restrictions to come into play on Friday.




SBS - Published




NSW set to relax COVID-19 restrictions

NSW Premier Gladys Berejiklian is expected to announce a relaxation of COVID-19 restrictions on Sunday to come into play on Friday.




SBS - Published





Weekend coronavirus testing urged in NSW, Tasmania says will reopen green spaces soon

NSW Premier Gladys Berejiklian has urged people to come forward for COVID-19 testing over the weekend, while Tasmanian Premier Peter Gutwein says an outbreak in the state's northwest is now under..




SBS - Published





NSW Premier Gladys Berejiklian urges weekend virus testing as restrictions ease

NSW Premier Gladys Berejiklian has urged people to come forward for COVID-19 testing over the weekend even if they have the "mildest symptoms".




SBS - Published





NSW premier urges weekend virus testing

NSW Premier Gladys Berejiklian has urged people to come forward for COVID-19 testing over the weekend even if they have the "mildest symptoms".




SBS - Published





Gladys Berejiklian announces eased gathering restrictions for NSW from Friday

From Friday, two adults in NSW will be allowed to visit a household other than their own as the state begins to ease social distancing restrictions.




SBS - Published





Australia edges towards reopening schools as coronavirus infections slow

Students in Australia's most populous state, New South Wales, will start returning to school next month in much larger numbers amid a rapid decline in new coronavirus infections, Premier Gladys..




Reuters - Published





'Very messy': Principals question Premier's part-time learning plan

Premier Gladys Berejiklian wants students to resume learning under a roster system, but principals have slammed the idea as confusing and unrealistic.




The Age - Published




Gladys Berejiklian says 'wait for the facts' after sick staffer kept working at Sydney aged-care facility

Gladys Berejiklian says it's important not to cast blame and wait for the facts after a sick staffer kept working at a Sydney aged-care facility for six days before she tested positive to the..




SBS - Published





Gladys Berejiklian warns against complacency as NSW records only seven new virus cases

The number of COVID-19 cases in NSW has risen by just seven but the premier has warned against complacency and announced an increase in community testing.




SBS - Published





Harwin's departure gives Berejiklian breathing space but exposes ongoing rifts

Tensions abound internally in NSW and between the state and federal governments.




The Age - Published





Australian states prepared to go alone in tightening coronavirus measures

NSW premier Gladys Berejiklian has indicated she's ready to move ahead of the Commonwealth towards lockdown-style measures to fight COVID-19 as other states also consider their own additional measures.




SBS - Published




No passenger allowed off ships in Sydney until new protocols signed: NSW premier

No passenger will be allowed off cruise ships in Sydney until new protocols, which are still being negotiated with the federal government, are signed, Australia's New South Wales state premier Gladys..




Reuters - Published





'We all need to step up': NSW coronavirus cases pass 1000

Premier Gladys Berejiklian says enforcement is being stepped up as the number of COVID-19 cases in NSW is now over 1000.




The Age - Published





Gladys Berejiklian urges parents to keep children home from school as NSW virus cases soar

More than 600 people have tested positive to COVID-19 in NSW and authorities are imposing restrictions, including a staged shutdown of social gathering spaces.




SBS - Published





Over 300 coronavirus cases in NSW, university rugby function exposed

After 40 more people in NSW tested positive for coronavirus in the past 24 hours, Premier Gladys Berejiklian urged the public to continue practising social distancing.




The Age - Published





'A no-regrets policy': Gladys Berejiklian unveils $2.3 billion coronavirus stimulus package

NSW authorities hope economic stimulus and a series of unprecedented measures will contain the effects of the COVID-19 pandemic.




SBS - Published





Watch: NSW Health authorities are speaking with an update on COVID-19

NSW Premier Gladys Berejiklian is speaking with health authorities with an update on the COVID-19 outbreak.




SBS - Published





More than 170 coronavirus cases in NSW, with count nearly doubling across weekend

NSW Premier Gladys Berejiklian has urged people to not take chances with their health or the health of others as the number of coronavirus cases rise.




SBS - Published





'This is life and death': Gladys Berejiklian urges people not to take any chances as NSW virus cases rise

NSW Premier Gladys Berejiklian has urged people to not take chances with their health or the health of others as the number of coronavirus cases rise.




SBS - Published





'Brace yourselves' as NSW virus cases rise

NSW Premier Gladys Berejiklian has urged people to not take chances with their health or the health of others as the number of coronavirus cases rise.




SBS - Published





'We haven't even hit winter': Coronavirus spreading across Sydney

With new cases popping up from the northern beaches to Cronulla, Liverpool and Canterbury, and a cluster of nine cases in the north, Premier Gladys Berejiklian warned the worst is yet to come.




The Age - Published





Jacinda Ardern to press Scott Morrison on issue of forced deportations

New Zealand Prime Minister Jacinda Ardern will meet with her Australian counterpart Scott Morrison and NSW Premier Gladys Berejiklian in Sydney.




SBS - Published





Premier says status quo 'no longer tenable' in schools, flags reforms

Premier Gladys Berejiklian says recent poor results mean it's time to change how children are taught.




The Age - Published





No collusion: PM and Gladys at loggerheads over White House contact

The deaths of three American firefighters in NSW has caused even more tensions between the Morrison and Berejiklian offices.




The Age - Published





Watch: NSW bushfire inquiry announcement

NSW Premier Gladys Berejiklian is speaking about a new inquiry into the cause of unprecedented NSW bushfires.




SBS - Published





Three die after crash of Australian aircraft fighting bushfires

Three people have been killed after an air tanker crashed in a fireball on Thursday while fighting bushfires in Australia's alpine region, said Gladys Berejiklian, the premier of the southeastern state..




Reuters - Published





NSW premier promises 'no questions asked' for festival-goers using drug amnesty bins

NSW Premier Gladys Berejiklian says there will be no questions asked if festival goers use drug amnesty bins at a major event in Sydney on Saturday.




SBS - Published





'No questions' at NSW drug amnesty bins

NSW Premier Gladys Berejiklian says there will be no questions asked if festival goers use drug amnesty bins at a major event in Sydney on Saturday.




SBS - Published





'Not much left': Small NSW village all but wiped out by devastating bushfire

NSW Premier Gladys Berejiklian says "there's not much left in the town of Balmoral" after it was hit by a deadly firestorm.




SBS - Published




'Quicker to walk': Technical faults plague first day of Sydney's new light rail

NSW Premier Gladys Berejiklian and tram enthusiasts have celebrated the opening of the light rail service, but incidents and delays have left many frustrated.




SBS - Published





Passengers left frustrated as new Sydney light rail opens to the public

NSW Premier Gladys Berejiklian and tram enthusiasts have travelled on the first Circular Quay to Randwick light rail service, but incidents and delays have left some passengers frustrated.




SBS - Published