Cat
Domesticated feline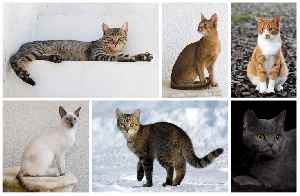 The cat is a small carnivorous mammal. It is the only domesticated species in the family Felidae and often referred to as the domestic cat to distinguish it from wild members of the family. The cat is either a house cat or a farm cat, which which are pets, or a feral cat, which ranges freely and avoids human contact. A house cat is valued by humans for companionship and for its ability to hunt rodents. About 60 cat breeds are recognized by various cat registries.


CBD Melbourne: Marles a Cat getting the cream
If Labor's campaign team intended for Libby Coker to be the star of its Kardinia Park announcement, their hopes were dashed by Cats fanatic and Defence Minister hopeful Richard Marles.
The Age - Published
Search this site and the web:
You Might Like