Trump National Doral Miami
Golf resort in south Florida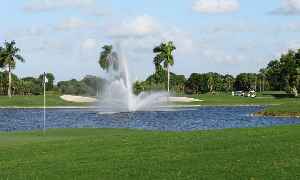 Trump National Doral Miami is a golf resort in Doral in South Florida in the United States. It was founded by real estate pioneer Alfred Kaskel in 1962, with the name "Doral" coming from an amalgamation of the first names of Kaskel and his wife, Doris. It currently has 72 holes of golf and its signature course is the Blue Monster at Doral.


You're Fired: Trump Resort Lays Off Hundreds Of Workers

A resort club in Miami, Florida, owned by President Donald Trump has laid off its employees. According to Business Insider, the Trump National Doral resort in Miami, Florida, has laid off 560 of its..
Credit: Wochit News Duration: 00:43
Published
You Might Like
Search this site and the web: