New South Wales Police Force
Primary law enforcement agency of New South Wales, Australia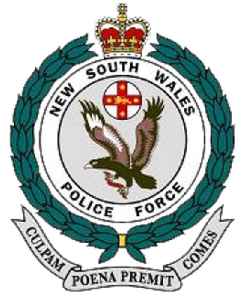 The New South Wales Police Force is the primary law enforcement agency of the state of New South Wales, Australia. It is a servant of the Crown, independent of Government, although a minister of the Crown has administration. Divided into Police Area Commands (PACs), for metropolitan areas of NSW and Police Districts (PDs), for regional and country areas of NSW, the NSW Police Force consists of more than 500 local police stations and covers an area of 801,600 square kilometres in a state of some eight million people.


Student charged after having a "night at the museum"

Australian police on Monday charged a German international student with breaking into a Sydney museum after CCTV footage showed a man taking selfies next to dinosaur exhibits.
Credit: Reuters Studio Duration: 01:13
Published
You Might Like



NSW Police denies officer knowingly made alt-right hand symbol after photo circulates on social media

Footage showing a NSW police officer making the "OK" hand symbol, which has been co-opted by the alt-right, during a response to Friday night's Black Lives Matter protest has been circulated on social..




SBS - Published




NSW Police go to Supreme Court to stop refugee rights protest

NSW Police is trying to stop a protest about refugee rights from going ahead on Saturday.




SBS - Published





Watch: Dungay family gives press conference at NSW Supreme Court

The family of David Dungay, an Indigenous man killed in police custody, is speaking live about the NSW Police Force's attempt to ban the Black Lives Matter rally in Sydney.




SBS - Published





Hundreds gather in Sydney as part of latest Australian Black Lives Matter protest

Hours after the NSW Police Force announced an internal investigation into the arrest of an Indigenous teenager in inner-city Sydney, hundreds of people have gathered to protest police brutality.




SBS - Published




Law firms considering strip-search class action against NSW Police

Two law firms are looking to get compensation for potentially thousands of people who may have been unlawfully searched by NSW Police over the past six years.




SBS - Published





Police, NRL to probe Josh Addo-Carr and Latrell Mitchell over alleged breach of social distancing rules

NSW Police and the NRL will investigate whether Josh Addo-Carr and Latrell Mitchell broke social distancing regulations at a mid-north coast gathering.




SBS - Published





Coronavirus updates LIVE: COVID-19 deaths surpass 65,000 worldwide, Ruby Princess fiasco to be investigated by NSW Police

If you suspect you or a family member has coronavirus you should call (not visit) your GP or ring the national Coronavirus Health Information Hotline on 1800 020 080.




The Age - Published





NSW Police to launch criminal investigation into Ruby Princess saga as deaths linked to ship grow

The Ruby Princess cruise ship scandal will be scrutinised in a criminal investigation.




SBS - Published




NSW Police 'Operation Nemesis' to see five cruise ships restocked and moved out of Sydney Harbour

Five cruise ships will be reprovisioned in Sydney harbour before departing amid the ongoing coronavirus pandemic.




SBS - Published





NSW Police investigate Ruby Princess debacle as Labor demands answers from Peter Dutton

NSW Police have announced they're investigating the Ruby Princess coronavirus debacle, a day after Labor singled out Home Affairs Minister Peter Dutton for criticism over its handling.




SBS - Published





Heavy fines announced for breaching NSW virus orders

NSW Police will be able to fine individuals $1,000 and businesses $5,000 for breaches of public health and ministerial orders during the coronavirus crisis.




SBS - Published





After 30 years of waiting, NSW police are pursuing justice for my brother

We may be seeing the dawn of a new era for the gay community and the NSW Police Force.




The Age - Published





Family of man killed in Sydney suspected gay-hate crime match $1m reward

The brother of Scott Johnson, who was killed in a suspected anti-gay hate crime, has offered to match the $1 million NSW Police reward to find his killer.




SBS - Published





Family match $1m reward in Syd murder case

The brother of Scott Johnson, who was killed in a suspected anti-gay hate crime, has offered to match the $1 million NSW Police reward to find his killer.




SBS - Published





'Systemic unlawfulness': 88 per cent of NSW Police searches found nothing

Police found nothing in 88 per cent of the 211,000 personal searches conducted under the force's quota-based system in 2018, prompting concerns the regime is leading to an abuse of police powers to..




The Age - Published





NSW Police blacklist disproportionately targeted Indigenous children, some as young as nine

A report by the NSW Law Enforcement Conduct Commission has found the state's police maintained a blacklist disproportionately made up of Indigenous young people deemed to be at risk of committing..




SBS - Published




NSW Police defend strip search quota system

NSW Police has defended the way it conducts personal searches after it was revealed more than 238,000 people were searched in 2018-19.




SBS - Published




Legal action taken against 183 people this bushfire season

NSW Police have taken legal action against 183 people so far this bushfire season, including charging 24 people with deliberately lighting bushfires.




The Age - Published





Gay officers win discrimination case against NSW Police

The officers are seeking compensation after NSW Police was found to have discriminated against them based on their sexuality.




SBS - Published





NSW police are investigating an altered document used by Angus Taylor's office to criticise Clover Moore

NSW Police are investigating an allegedly fraudulent document shared by federal energy minister Angus Taylor's office, which purported to reveal the City of Sydney council's travel expenditure.




SBS - Published




'They need to have respect': NSW Police chief defends strip searches

NSW Police Commissioner Mick Fuller has defended his force's use of strip searches, including on those younger than 18.




SBS - Published




'He's lost everything': Bill Spedding sues NSW Police

The washing machine repairman who was publicly named as a person of interest in the high-profile case of missing boy William Tyrrell has claimed malicious prosecution by NSW Police.




The Age - Published





NSW police arrest of Afghan women during traffic stop 'appalling'

The manner in which NSW Police officers arrested and humiliated two women in hijabs over an alleged unbuckled seatbelt was "appalling" and had the potential to undermine the entire force, critics say.




SBS - Published





'Reputational damage': Washing machine repairman to sue NSW police over William Tyrrell case

NSW mid-north coast repairman Bill Spedding will sue NSW Police over his treatment in relation to the disappearance of toddler William Tyrrell.




SBS - Published





Spedding to sue NSW Police over treatment

NSW mid-north coast repairman Bill Spedding will sue NSW Police over his treatment in relation to the disappearance of toddler William Tyrrell.




SBS - Published





Dastyari cautioned over ICAC bike antics

Sam Dastyari has been cautioned by NSW Police for riding a share bike on a Sydney footpath en route to an ICAC inquiry but he won't be fined.




SBS - Published





Armed man dies after being shot by NSW Police

A man has died in hospital after he allegedly pointed a gun at NSW Police, prompting officers to shoot him in the leg.




SBS - Published





Inmates at NSW juvenile justice centre to 'face consequences' as riot comes to peaceful end

A riot at a NSW juvenile justice centre has been brought under control, NSW Police said.




SBS - Published





NSW police to aid family of Canada victims

Two NSW Police homicide officers including Detective Chief Inspector Wayne Walpole have been sent to Canada after a young Australian man was shot dead.




SBS - Published





Son of NSW Police chief inspector and girlfriend found dead in Canada

An Australian man and his American partner have been found dead in suspicious circumstances on a highway in Canada.




SBS - Published





Police stations and courts among targets in alleged Sydney terror plot

A 12-month investigation by NSW Police and the Australian Federal Police has led to the arrest of three individuals linked to an alleged terror plot, which police say were targeting public venues in..




SBS - Published