Manus Island
Part of Manus Province in northern Papua New Guinea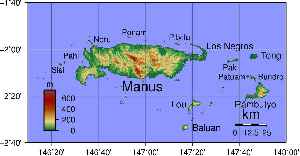 Manus Island is part of Manus Province in northern Papua New Guinea and is the largest of the Admiralty Islands. It is the fifth-largest island in Papua New Guinea, with an area of 2,100 km2 (810 sq mi), measuring around 100 km × 30 km. According to the 2000 census, the whole Manus Province had a population of 43,387, rising to 50,321 as of 2011 Census. Lorengau, the capital of Manus Province, is located on the island. Momote Airport, the terminal for Manus Province, is located on nearby Los Negros Island. A bridge connects Los Negros Island to Manus Island and the province capital of Lorengau. In addition to its resident population, asylum seekers have been relocated here from Australia between 2001 and 2004 and since 2012.


Reports of suspected typhoid outbreak on Manus Island
Reports are emerging from Manus Island that asylum seekers have been flown to Port Moresby after contracting typhoid fever.
SBS - Published
Thousands gather across Australia for Palm Sunday refugee rallies
Football commentator and advocate Craig Foster said Australia's national conscience had been severely damaged by deaths on Manus Island and Nauru.
SBS - Published
Search this site and the web:
You Might Like