Manitoba
Province of Canada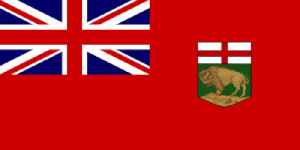 Manitoba is a province at the longitudinal centre of Canada. It is often considered one of the three prairie provinces and is Canada's fifth-most populous province with its estimated 1.377 million people. Manitoba covers 649,950 square kilometres (250,900 sq mi) with a widely varied landscape, stretching from the northern oceanic coastline to the southern border with the United States. The province is bordered by the provinces of Ontario to the east and Saskatchewan to the west, the territories of Nunavut to the north, and Northwest Territories to the northwest, Hudson Bay to the northeast, and the U.S. states of North Dakota and Minnesota to the south.


You Might Like
Canada's British Columbia the latest province to unveil restart plan
The Canadian province of British Columbia will unveil its plan to start reopening its economy on Wednesday, as new coronavirus cases dwindle and other parts of the country, including Quebec and..
Reuters - Published
Canadian province Manitoba set to re-elect majority Progressive Conservative government
Voters in Canada's western province of Manitoba were set to re-elect the right-leaning Progressive Conservative (PC) party led by Brian Pallister on Tuesday, CTV news predicted, as poll results were..
Reuters - Published
Canadian police say scaling back search in Manitoba for murder suspects
Canadian police said on Wednesday they are scaling back an intensive week-long search in the northern Manitoba wilderness for two teenagers charged with killing a university lecturer and suspected in..
Reuters - Published
Canadian air force joins search for fugitive murder suspects in remote area
The Canadian air force has been called in to a tiny community in northern Manitoba, where the two teens suspected of three murders were thought to have been last seen, police said on Monday, as the..
Reuters - Published
Canadian police descend on tiny Manitoba hamlet as teen murder suspects spotted
Canadian police descended on a tiny hamlet in northern Manitoba on Sunday after a reported sighting of two teenage fugitives wanted in the murders of three people, including American and Australian..
Reuters - Published
Lucas Fowler murder: Canadian police investigate reported sighting of suspects
Canadian have deployed 'multiple resources' to York Landing in Manitoba, 80 km from remote town of Gillam where the suspects were last seen.
SBS - Published
Canada police use drones, dogs in hunt for teenage murder suspects
Canadian police were using drones and dogs to scour harsh terrain in northern Manitoba on Thursday in the search for two teenagers wanted in the killings of three people, including an American woman..
Reuters - Published