Wuhan
Sub-provincial city in Hubei, People's Republic of China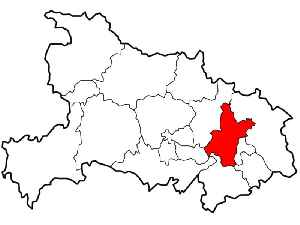 Wuhan is the capital city of Hubei Province in the People's Republic of China. It is the largest city in Hubei and the most populous city in Central China, with a population of over 11 million, the ninth-most populous Chinese city and one of the nine National Central Cities of China.


Sacha Baron Cohen Makes Secret Appearance at Conservative Rally in Washington | THR News

Organizers of the event have suggested the comedian disguised himself as a lead singer who encouraged the crowd to sing along to lyrics such as "Obama what we gotta do, inject him with the Wuhan flu"..
Credit: The Hollywood Reporter Duration: 01:44
Published
Beijing residents less worried as new virus cases drops

Beijing reported on Monday nine new cases for Sunday, sharply down from 22 a day earlier.
Credit: Reuters Studio Duration: 01:19
Published
Beijing residents fear Wuhan-style lockdown if cases continue to rise

Concerns are growing in Beijing about a rise in coronavirus cases in the city that could lead to a possible Wuhan-style lockdown. Joe Davies reports.
Credit: Reuters Studio Duration: 01:05
Published
Coronavirus Resurgence In Beijing

Beijing is seeing a surge in coronavirus cases. The Chinese capital has reported its second consecutive day of record new numbers of COVID-19 cases. The recent outbreak has been traced to Xinfadi, a..
Credit: Wochit News Duration: 00:37
Published
Researcher: take new Wuhan study 'with a grain of salt'

Beijing has dismissed a Harvard Medical School study of hospital traffic and search engine data that suggested the new coronavirus may already have been spreading in China last August, and scientists..
Credit: Reuters Studio Duration: 01:55
Published
Jackky Bhagnani donates PPE kits to BMC

Bollywood actor and producer Jackky Bhagnani has donated over 1,000 PPE (Personal Protective Equipment) kits to BMC officials. After receiving the kits, BMC thanked Bhagnani for his contribution by..
Credit: ANI Duration: 01:23
Published
Pattern analysis of hospital traffic and internet search terms suggest coronavirus outbreak began in China before winter 2019

Satellite imagery of vehicle traffic around hospitals in Wuhan suggests the coronavirus may have struck the city months before the outbreak was acknowledged.
Credit: Reuters - 3D Animations (Next Me Duration: 01:02
Published
Beijing denies coronavirus broke out in August

The coronavirus might have been spreading in China as early as August last year, according to Harvard Medical School research based on satellite images of hospital travel patterns and search engine..
Credit: Reuters Studio Duration: 01:23
Published
'How come COVID from Wuhan didn't go to other parts of China?': President Trump

Speaking on coronavirus pandemic, US President Donald Trump questioned the situation of coronavirus in China. "COVID is a gift from China. Not good, they should have stopped it at the source. A very..
Credit: ANI Duration: 01:15
Published
Are Asymptomatic COVID-19 Patients As Contagious As People Who Show Symptoms?

The US Centers for Disease Control and Prevention (CDC) estimates that around 35% of novel coronavirus COVID-19 infections are asymptomatic. In other words, people infected with the virus show no..
Credit: Wochit News Duration: 00:39
Published
China's cover-up of Wuhan virus led to global pandemic and loss of million lives: US Prez

United States President Donald Trump lambasted at China and said that China's cover-up of the Wuhan virus allowed the disease to spread all over the world. "China's cover-up of the Wuhan virus allowed..
Credit: ANI Duration: 01:16
Published
Latin America overtakes U.S, Europe in new cases

Global coronavirus cases surpassed 5 million on Wednesday, with Latin America overtaking the United States and Europe in the past week to report the largest portion of new cases globally. Edward Baran..
Credit: Reuters Studio Duration: 01:07
Published
COVID-19: Liquor shops remain shut in Indore even after state govt's allowance to open

Liquor shops in rural areas of Indore remained shut although, the state Govt allowed them to open from May 20. The decision has been taken by liquor shop owners due to rising cases of coronavirus in..
Credit: ANI Duration: 01:42
Published
Fourth Chinese Citizen Missing After Streaming On 'Life In Wuhan'

A former lawyer and citizen journalist was detained after live streaming videos from Wuhan, China. The videos were deemed critical of the Chinese government, according to Business Insider. Zhang Zhan..
Credit: Wochit News Duration: 00:42
Published
China's Wuhan has tested third of residents for coronavirus

City embarks on enormous testing exercise after emergence of new clusters of cases following end of lockdown.
Credit: Al Jazeera STUDIO Duration: 01:20
Published
Wuhan locals fear virus testing could rekindle disease

As Wuhan, the Chinese city where the COVID-19 pandemic began, revs up a massive testing campaign, some residents crowding the test centres expressed concern on Saturday that the very act of getting..
Credit: Reuters Studio Duration: 01:27
Published
China's Wuhan Increases COVID-19 Testing—Fearing Second Wave

According to Reuters, authorities in Wuhan, China have tested over 3 million residents for the coronavirus. The tests occurred in April and May. The city is the epicenter of the original outbreak and..
Credit: Wochit News Duration: 00:35
Published
Wuhan Plans to Test All 11 Million Residents After 6 New COVID-19 Cases

Every single one of Wuhan's 11 million residents will be tested by the end of the week.
Credit: Cover Video STUDIO Duration: 01:10
Published
International Nurses Day: Wall art pays tribute to the 'caring hands' in Thrissur

Artists in Thrissur's Ramanilayam of Kerala paid tribute to nurses on International Nurses Day by painting walls in the city. The event was organized by the Kerala Social Security Mission and the..
Credit: ANI Duration: 01:52
Published
New Zealand supports Taiwan at WHO despite Chinese rebuke

New Zealand's foreign minister on Tuesday said the country has to stand up for itself after China warned its backing of Taiwan's participation at the World Health Organization (WHO) could damage..
Credit: Reuters - Politics Duration: 01:57
Published
WHO says 'extreme vigilance' needed in exit from lockdowns

The World Health Organization (WHO) said on Monday that "extreme vigilance" was needed as countries begin to exit from lockdowns imposed to curb the spread of the new coronavirus, amid global concerns..
Credit: Reuters Studio Duration: 02:27
Published
Disneyland reopens in China amid fears of COVID-19 return

Disneyland reopens in Shanghai even as new coronavirus cases are reported further north in Wuhan
Credit: Al Jazeera STUDIO Duration: 02:21
Published
China's Wuhan reports first virus cluster since lifting of lockdown

Wuhan, the epicentre of the novel coronavirus outbreak in China, reported on Monday its first cluster of infections since a lockdown on the central Chinese city was lifted a month ago. Edward Baran..
Credit: Reuters Studio Duration: 01:24
Published
Explainer: Why is the coronavirus so deadly?

A comprehensive review of recent and ongoing studies shows how the coronavirus ravages the brain, heart, lungs and intestine.
Credit: Reuters - 3D Animations (Next Me Duration: 03:17
Published
You Might Like



An Australian girl stranded near Wuhan for six months has been reunited with her mum

Fourteen-year-old Jessica Xie-Moulton has returned to Western Australia after living inside the original epicentre of the coronavirus pandemic for the past six months.




SBS - Published





For virus-tamer Merkel, global alliances trumped nationalism

Travelling in convoy through the Chinese city of Wuhan last September, Angela Merkel called a halt. As her party crossed a bridge over the Yangtze river, the German Chancellor wanted to hear about a..




Reuters - Published





U.S. says consulate in China's Wuhan to reopen in near future

The United States will soon resume operations at its consulate in the Chinese city of Wuhan, where the novel coronavirus outbreak began late last year, the U.S. Embassy said on Wednesday.




Reuters - Published





China, scientists dismiss Harvard study suggesting COVID-19 was spreading in Wuhan in August

Beijing dismissed as "ridiculous" a Harvard Medical School study of hospital traffic and search engine data that suggested the new coronavirus may already have been spreading in China last August, and..




Reuters - Published





Coronavirus may have spread in Wuhan in August, Harvard research shows, but China dismissive

The coronavirus might have been spreading in China as early as August last year, according to Harvard Medical School research based on satellite images of hospital travel patterns and search engine..




Reuters - Published





China drops Shanghai as a first port of entry for Beijing-bound flights

China on Monday dropped Shanghai as one of the first ports of entry for international flights bound for the capital, Beijing, while four new cities were added to the list and Wuhan, where the..




Reuters - Published





Breaking down Wuhan's blueprint for lifting lockdown

From outbreak to lockdown and reopening, the Chinese city of Wuhan, where the novel coronavirus emerged late last year, has been through all stages of dealing with the health crisis.




Reuters - Published





No new COVID sufferers, 300 asymptomatic, after Wuhan-wide tests

The Chinese city of Wuhan, where the novel coronavirus outbreak began, has found no new cases of people suffering from COVID-19 after testing almost its entire population, and 300 asymptomatic carriers..




Reuters - Published





China's Wuhan finds no new COVID cases, 300 asymptomatics in tests

The Chinese city of Wuhan, where the novel coronavirus outbreak first emerged, found no new cases of COVID-19 and 300 asymptomatic carriers after testing most of its 11 million residents, city..




Reuters - Published




China's Wuhan says conducted 1,146,156 COVID-19 tests on May 23

The city of Wuhan, the epicenter of the novel coronavirus outbreak in China, conducted 1,146,156 nucleic acid tests on May 23, the local health authority said on Sunday, compared with 1,470,950 tests a..




Reuters - Published




China reports no new coronavirus cases for first time since pandemic began

China recorded no new confirmed COVID-19 cases on the mainland for May 22, the first time it had seen no daily rise in the number of cases since the pandemic began in the central city of Wuhan late..




Reuters - Published





China reports six new coronavirus cases, including one in Wuhan

China reported six confirmed coronavirus cases for May 18, including a new case in Wuhan, the health authority said on Tuesday, compared to seven a day earlier.




Reuters - Published





China's Wuhan nearly doubles number of COVID-19 tests per day

The city of Wuhan, where the new coronavirus outbreak originated in China, conducted 222,675 nucleic acid tests on May 16, the local health authority said on Sunday, nearly doubling from a day earlier.




Reuters - Published





Watch: SBS World News live

Coming up on SBS World News: Health authorities warn we're "sitting ducks" if we let our guard down as restrictions ease, China introduces a huge testing campaign in Wuhan, once the epicentre of the..




SBS - Published





Dancers bring Saturday night fever back to Wuhan as lockdown relaxed

Wearing masks and keeping about a metre apart, men and women in Wuhan were dancing once again on a Saturday night by the side of the Yangtze river, which winds through the central Chinese city where..




Reuters - Published





Crowds at Wuhan clinics fear coronavirus testing could rekindle disease

As Wuhan, the Chinese city where the COVID-19 pandemic began, revs up a massive testing campaign, some residents crowding the test centres expressed concern on Saturday that the very act of getting..




Reuters - Published





Fearing second wave, China's Wuhan ramps up coronavirus tests

Authorities in Wuhan have tested over 3 million residents for the coronavirus in April and May and aim to test all of the rest, state media said, as the city at the epicentre of the original outbreak..




Reuters - Published




China's Wuhan says tested almost a third of residents for coronavirus since April

Wuhan, the original epicentre of the new coronavirus outbreak in China, has tested over 3 million residents for the pathogen since April, and will now focus its testing efforts on the rest of its 11..




Reuters - Published




Wuhan residents brave rain, queues for COVID-19 mass-testing campaign

Residents in Wuhan braved pouring rain in queues of more than an hour to take part in a government-led exercise to test the city's 11 million people for the novel coronavirus, a scale health experts..




Reuters - Published





China's Wuhan kicks off mass testing campaign for new coronavirus

Authorities in the Chinese city where the novel coronavirus emerged launched an ambitious campaign on Wednesday to test all of its 11 million residents, after a cluster of new cases raised fears of a..




Reuters - Published





China's Wuhan reports first coronavirus cluster since lockdown lifted

Wuhan reported its first cluster of coronavirus infections since a lockdown on the city, the epicentre of the outbreak in China, was lifted a month ago, stoking concerns of a wider resurgence.




Reuters - Published




China's Wuhan plans city-wide testing for coronavirus over period of 10 days: sources

The Chinese city of Wuhan, the epicentre of China's coronavirus outbreak, plans to conduct city-wide nucleic acid testing over a period of 10 days, according to an internal document seen by Reuters and..




Reuters - Published





Mainland China reports 17 new COVID-19 cases amid new infections in Wuhan

China reported 17 new COVID-19 cases in the mainland on May 10, rising from a day earlier and marking the highest daily increase since April 28, highlighting the difficulty in stamping out the disease.




Reuters - Published




Northeast China hit by coronavirus infections, Wuhan reports new case

Chinese authorities reported on Sunday what could be the beginning of a new wave of coronavirus cases in northeast China, with one city in Jilin province being reclassified as high-risk, the top of a..




Reuters - Published





China reports first coronavirus case in Wuhan since April 3 among 14 new infections

China's National Health Commission reported 14 new confirmed coronavirus cases on May 9, the highest number since April 28, including the first for more than a month in the city of Wuhan where the..




Reuters - Published





Wuhan market had role in virus outbreak, but more research needed: WHO

A wholesale market in the central Chinese city of Wuhan played a role in the outbreak of the novel coronavirus last year, as the source or possibly as an "amplifying setting", the World Health..




Reuters - Published





Australia annoyed as U.S. pushes Wuhan lab COVID-19 theory

Australian officials are frustrated that their push for an inquiry into the origins of the coronavirus is being undermined by the White House, which has sought to link the outbreak to a Chinese lab,..




Reuters - Published





100 days of coronavirus in Australia: How an unexpected pandemic changed the world forever

On 25 January, the first case of coronavirus on Australian soil was recorded in a man visiting Victoria from Wuhan. More than three months later, schools have been closed, businesses are shuttered,..




SBS - Published





More people hit China roads in first major holiday since coronavirus easing

China's most populous cities saw a spike in outbound travellers, tourists and day-trippers on May 1, first day of a long holiday weekend, led by Wuhan, epicentre of the coronavirus epidemic that first..




Reuters - Published





Australian PM says no evidence coronavirus originated in China laboratory, urges inquiry

Australian Prime Minister Scott Morrison, who has angered Beijing by calling for a global inquiry into the coronavirus outbreak, said he had no evidence to suggest the disease originated in a..




Reuters - Published





Pompeo pushes China to provide access to Wuhan labs over coronavirus outbreak

U.S. Secretary of State Mike Pompeo on Wednesday pushed China again to provide the world access to its virology labs in Wuhan, saying the world needed to understand how the COVID-19 pandemic originated..




Reuters - Published





China lab rejects COVID-19 conspiracy claims, but virus origins still a mystery

Claims that the coronavirus pandemic originated in a laboratory in the Chinese city of Wuhan have no basis in fact, the head of the lab told Reuters, adding that there were still no conclusive answers..




Reuters - Published





China says all coronavirus patients in Wuhan have now been discharged

The Chinese city of Wuhan, where the global coronavirus pandemic began, now has no remaining cases in its hospitals, a health official told reporters on Sunday.




Reuters - Published





Chinese citizen journalist resurfaces after going missing in Wuhan

A Chinese citizen journalist who posted videos about the coronavirus situation in the city of Wuhan has resurfaced after going missing for almost two months, saying in a YouTube video that he had been..




Reuters - Published





Three negatives and a positive: problems with coronavirus tests in China

Trader He Ximing in the Chinese city of Wuhan says he has no idea how or where he caught the coronavirus or why repeated nucleic acid tests showed he didn't have it.




Reuters - Published





Recovered, almost: China's early patients unable to shed coronavirus

Dressed in a hazmat suit, two masks and a face shield, Du Mingjun knocked on the mahogany door of a flat in a suburban district of Wuhan on a recent morning.




Reuters - Published





China mandates coronavirus tests for key public workers leaving Wuhan

China ordered on Saturday that anyone in Wuhan working in certain service-related jobs must take a coronavirus test if they want to leave the city.




Reuters - Published





China's revised COVID figures are a bid to 'leave no case undocumented': WHO

A sharp upward revision in China's coronavirus death toll on Friday was "an attempt to leave no case undocumented" after medical services in Wuhan were overwhelmed at the start of the outbreak, the..




Reuters - Published





France says no evidence COVID-19 linked to Wuhan research lab

France said on Friday there was no evidence so far of a link between the new coronavirus and the work of the P4 research laboratory in the Chinese city of Wuhan, where the current pandemic started.




Reuters - Published




China says nearly 1,300 virus deaths not counted in Wuhan, cites early lapses

Nearly 1,300 people who died of the coronavirus in the Chinese city of Wuhan, or half the total, were not counted in death tolls because of lapses, state media said on Friday, but Beijing dismissed..




Reuters - Published





China's Wuhan raises coronavirus death toll by 50% citing early lapses

The Chinese city of Wuhan raised its death toll from the novel coronavirus by 50% on Friday, bringing its total to 3,869, amid doubts about the accuracy of China's data on the disease as global cases..




Reuters - Published





How coronavirus hitched a ride through China

As residents of China's Wuhan began leaving for the first time last week, a Reuters analysis of official statements, data and residents' accounts reveals how the coronavirus took hold and spread to..




Reuters - Published





Lockdown lifted, Wuhan's residence committees keep watch

The lockdown of the Chinese city of Wuhan may have lifted, but Feng Jing keeps watching the 5,400 residents in the Tanhualin neighbourhood to see where they go and how they are feeling, guarding..




Reuters - Published





Love wins: wedding preparations resume in Wuhan as coronavirus lockdown lifts

Peng Jing stifles a laugh as she looks into the eyes of her tuxedo-clad fiancee, Yao Bin, who is in turn trying not to step on the long train of her white wedding dress.




Reuters - Published





Trump says U.S. investigating whether virus came from Wuhan lab

U.S. President Donald Trump said on Wednesday his government is trying to determine whether the coronavirus emanated from a lab in Wuhan, China, and Secretary of State Mike Pompeo said Beijing "needs..




Reuters - Published