Alaska
U.S. state in the United States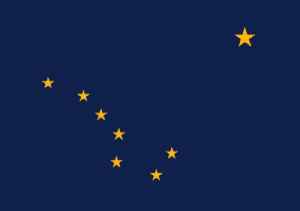 Alaska is a U.S. state in the northwest extremity of the United States West Coast, just across the Bering Strait from Asia. The Canadian province of British Columbia and territory of Yukon border the state to the east and southeast. Its most extreme western part is Attu Island, and it has a maritime border with Russia to the west across the Bering Strait. To the north are the Chukchi and Beaufort seas—southern parts of the Arctic Ocean. The Pacific Ocean lies to the south and southwest. It is the largest U.S. state by area and the seventh largest subnational division in the world. In addition, it is the 3rd least populous and the most sparsely populated of the 50 United States; nevertheless, it is by far the most populous territory located mostly north of the 60th parallel in North America: its population—estimated at 738,432 by the United States Census Bureau in 2015— is more than quadruple the combined populations of Northern Canada and Greenland. Approximately half of Alaska's residents live within the Anchorage metropolitan area. Alaska's economy is dominated by the fishing, natural gas, and oil industries, resources which it has in abundance. United States armed forces bases and tourism are also a significant part of the economy.


Russia's first sea-borne nuclear power plant arrives to its base
Russia's first-floating nuclear power plant has arrived to its permanent base near an isolated Russian town across the Bering Strait from Alaska, Russian state nuclear energy company Rosatom said on..
Reuters - Published
Half a century on, Soviet message in a bottle found in Alaska
Tyler Ivanoff, an American schoolteacher, was gathering firewood with his children on a beach in western Alaska when he came across a champagne bottle with a letter inside.
Reuters - Published
Trump Admin Leading Liquidation Of Public Land In Alaska
The Huffington Post reports that President Trump is leading the liquidation of public land in Alaska. Approximately 28.3 million acres of federal land across Alaska could be transferred, sold or opened..
Credit: Wochit News Duration: 00:41Published
Walmart to end sales of ammunition for handguns, assault-style weapons
Walmart on Tuesday said it would discontinue sales of some ammunition - for short-barrel rifles and handguns - in stores across the United States, in response to the mass shootings in Texas last month..
Credit: Reuters Studio Duration: 01:17Published
Hurricane Dorian Wreaks Havoc On Air Travel
Hurricane Dorian is on track to reach the continental United States in the next several days. Air travel is likely to be severely affected, regardless of the storm's exact track, and flights across the..
Credit: Wochit News Duration: 00:33Published
Message in a bottle: Russian sailor's 1969 letter found in Alaska
Message in a bottle: A Russian sailor's 1969 letter is discovered by a man in Alaska.
Credit: euronews (in English) Duration: 02:10Published
Kayaker witness glacier collapse in Alaska
Credit: Home with the Hoopers This is the moment a kayaker witnesses a glacier collapse while out on the waters in Alaska.
Credit: PA - Press Association STUDIO Duration: 00:53Published
'We survived' - kayakers flee collapsing glacier.
Two kayakers had a lucky escape when a glacier collapsed in Alaska. Rough cut (no reporter narration)
Credit: Reuters Studio Duration: 01:20Published
Trump Expresses Interest To Buy Greenland
A report recently said President Donald Trump expressed interest in buying Greenland, the world's largest island. According to Business Insider, Trump talked about it in "varying degrees of..
Credit: Wochit News Duration: 00:32Published
A U.S.-Russia nuclear treaty is dead. Now what?
After months of diplomatic threats, the U.S. has formally withdrawn from the Intermediate-range Nuclear Forces Treaty. But although the Cold War-era deal is dead, what's next for the U.S. arsenal isn't..
Credit: Reuters Studio Duration: 01:58Published
Watch: This animation shows CO2 impact of unprecedented wildfires in Siberia and Alaska
An unprecedented number wildfires in Siberia and Alaska in recent weeks have been pouring carbon dioxide into the sky. It means the blazes have not only been partly caused by global warming but are..
Credit: euronews (in English) Duration: 00:40Published
Wildfires rip through Alaska
Dramatic video reveals the scale of destruction from Alaska's wildfires so far this year. Rough cut - no reporter narration.
Credit: Reuters Studio Duration: 00:42Published
Russian nuclear-capable bombers leave airfield opposite Alaska: Ifax
Russia's Defence Ministry said on Friday that two of its nuclear-capable TU-160 bombers had left an airfield opposite Alaska after training exercises and returned to their base, Interfax news agency..
Reuters - Published
Russia flies nuclear-capable bombers to region facing Alaska
Russia's Ministry of Defence said on Wednesday it had flown two nuclear-capable Tu-160 bombers to a far eastern Russian region opposite Alaska as part of a training exercise.
Reuters - Published
Israel says Arrow-3 missile shield passes U.S. trials, warns Iran
Israel's U.S.-backed Arrow-3 ballistic missile shield has passed a series of live interception tests over Alaska, Prime Minister Benjamin Netanyahu said on Sunday, casting the achievement as a warning..
Reuters - Published
Israel says Arrow-3 anti-missile system passed live test in U.S.
Israel's U.S.-backed Arrow-3 air defense system, billed as a bullwark against the ballistic missiles fielded by Iran and Syria, has passed a live interception test in Alaska, the Israeli Defence..
Reuters - Published
Woman dies while trying to reach 'Into the Wild' bus in Alaska
A Belarusian woman who was trying to hike to an abandoned bus at the edge of Denali National Park in Alaska made famous in the book and movie "Into the Wild" died after being swept away in a river,..
Reuters - Published
U.S. fighter jets again intercept Russian bombers off Alaska
U.S. fighter jets intercepted several Russian bombers in international airspace off the coast of Alaska on Tuesday, in the fourth and fifth such incursions this year, U.S. military officials said on..
Reuters - Published
Fukushima contaminants found as far north as Alaska's Bering Strait
Radioactive contamination from Japan's Fukushima Daiichi nuclear power plant hit by a tsunami in 2011 has drifted as far north as waters off a remote Alaska island in the Bering Strait, scientists said..
Reuters - Published
You Might Like