New South Wales
State of Australia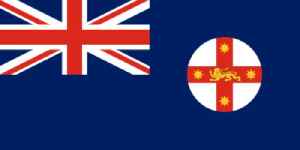 New South Wales is a state on the east coast of Australia. It borders Queensland to the north, Victoria to the south, and South Australia to the west. Its coast borders the Coral and Tasman Seas to the east. The Australian Capital Territory is an enclave within the state. New South Wales' state capital is Sydney, which is also Australia's most populous city. In March 2019, the population of New South Wales was over 8 million, making it Australia's most populous state. Just under two-thirds of the state's population, 5.1 million, live in the Greater Sydney area. The demonym for inhabitants of New South Wales is New South Welshmen; but some have protested this term while there is no commonly accepted alternative.


The plight to save Australia's koalas

From disease to bushfires, these destructive forces could make New South Wales' symbolic animal extinct by 2050. Rosanna Philpott reports.
Credit: Reuters Studio Duration: 03:21
Published
Feisty Tasmanian devils roaming mainland Australia again

Tasmanian devils – the carnivorous marsupials whose frenzied eating habits wonthe animals cartoon fame – have returned to mainland Australia for the firsttime in 3,000 years. "Seeing those devils..
Credit: PA - Press Association STUDIO Duration: 01:22
Published
Australian politicians are at war over koalas

[NFA] A dispute over policies to protect koalas has split the governing coalition in the Australian state of New South Wales in a political drama dubbed the "koala war." Emer McCarthy reports.
Credit: Reuters Studio Duration: 01:20
Published
Zac Efron reportedly finds love in Australia

The Baywatch star has spent the coronavirus lockdown in Byron Bay, New South Wales and recently cancelled a flight home to Los Angeles and extended his tourist visa from three to 12 months.
Credit: Cover Video STUDIO Duration: 00:48
Published
You Might Like



'A critical period': NSW warned about Christmas, as state records one new coronavirus case

NSW Chief Medical Officer Kerry Chant says the festive season will bring new challenges in controlling the spread of COVID-19 as people relax and party.




SBS - Published





Dozens of Sydney suburbs warned about coronavirus risk as Tasmania reveals plan to reopen border with NSW

Gladys Berejiklian says she wants to open the Victorian border 'as soon as we can', with NSW recording two new local coronavirus cases today.




SBS - Published





Gladys Berejiklian 'cautious' about opening to Victoria, as Tasmania reveals plan to reopen to NSW

There are two new local cases of COVID-19 in NSW as Gladys Berejiklian says she wants to open the Victorian border "as soon as we can" and Tasmania announces plans to reopen to NSW next week.




SBS - Published





Gladys Berejikilan 'cautious' about opening to Victoria, as NSW records two new local coronavirus cases

There are two new local cases of COVID-19 in NSW as Gladys Berejiklian says she wants to open the Victorian border "as soon as we can".




SBS - Published





Two new local COVID-19 cases in NSW

There are two new local cases of COVID-19 in NSW as Gladys Berejiklian says she wants to open the Victorian border but is being cautious.




SBS - Published





'Excited' Tasmanians as state reopens borders to low-risk states and territories

Tasmania has reopened to low-risk coronavirus states and territories, all bar NSW and Victoria.




SBS - Published




Coroner must have independent investigative powers to probe Indigenous deaths in custody, inquiry hears

Australia's first Indigenous SC says the NSW coroner should be able to independently investigate and collect evidence on Indigenous deaths in custody.




SBS - Published





Boost coroner's heft: custody deaths probe

Australia's first Indigenous SC says the NSW coroner should be able to independently investigate and collect evidence on Indigenous deaths in custody.




SBS - Published





NSW records one new locally acquired coronavirus case as testing rates go down

There is just a single new case of locally acquired COVID-19 in NSW and authorities are urging anyone trick-or-treating on Halloween to carry hand sanitiser.




SBS - Published




Watch: Indigenous Deaths in Custody inquiry

A NSW parliamentary inquiry is being held into First Nations people in custody and Oversight and Review of Deaths in Custody.




SBS - Published





It's been one year since the catastrophic Gospers Mountain bushfire started. These victims say Australia's climate change inaction is 'unforgivable'

Over a million hectares of land were destroyed when the mega-blaze ripped across NSW on 26 October last year, leaving dozens of communities traumatised.




SBS - Published




NSW records third day in a row with zero locally transmitted coronavirus cases

NSW has recorded its third day in a row without any locally transmitted cases of COVID-19.




SBS - Published





Restrictions ease as NSW records no new locally transmitted coronavirus cases

More people in NSW can convene for worship, in hospitality venues and outside at gatherings as restrictions ease, while no new local cases have been recorded.




SBS - Published




No new NSW local cases, restrictions ease

More people in NSW can convene for worship, in hospitality venues and outside at gatherings as restrictions ease, while no new local cases have been recorded.




SBS - Published





'Significant breakthrough' as NSW changes COVID-19 rules to allow for bigger protests

Protesters in NSW now have the green light to gather in their hundreds following an amendment to a public health order and several legal challenges.




SBS - Published





NSW allows protests with up to 500 people

Protesters in NSW now have the green light to gather up to 500 people in a COVID-safe way following an amendment to the public health order.




SBS - Published





Daniel Andrews flags hopes for a 'COVID-normal Christmas' as Victoria records just one new case

Both Victoria and NSW are looking to ease further social distancing restrictions, with each state working hard to keep outbreaks from flaring up.




SBS - Published





NSW set to further ease coronavirus restrictions as Victoria records one new case

Virus restrictions relating to hospitality, places of worship and outdoor gatherings are set to ease in NSW on Friday.




SBS - Published




Virus restrictions set to ease in NSW

Virus restrictions relating to hospitality, places of worship and outdoor gatherings are set to ease in NSW on Friday.




SBS - Published





Canberra has recorded its first coronavirus case in more than 100 days

The new case marks the ACT's first infection in 104 days, and comes shortly after a warning was issued to NSW.




SBS - Published





Gladys Berejiklian tells Bathurst 1000 attendees in NSW to get tested for coronavirus

NSW Health has issued a coronavirus alert for those who attended the Bathurst 1000 motor race on the weekend after COVID traces were found in local sewage.




SBS - Published




Social disadvantage set to skyrocket in NSW as the coronavirus fallout takes its toll

The impact of the coronavirus pandemic on the economy and employment will bring a wave of disadvantage to NSW if left unchecked, a new study says.




SBS - Published





Warning for Bathurst 1000 attendees in NSW after coronavirus remnants found in sewage

NSW Health has issued a coronavirus alert for those who attended the Bathurst 1000 motor race on the weekend after COVID traces were found in local sewage.




SBS - Published





NSW relaxes coronavirus restrictions for places of worship and gyms as it records two new cases

There are two new cases of locally acquired COVID-19 in NSW, as the government announces further relaxing of restrictions for churches and gyms.




SBS - Published




Proposed NSW court reforms to allow domestic violence survivors to give evidence via videolink

NSW Parliament will consider reforms to allow victims of domestic violence to give evidence in court via an audio-visual link or in a closed court.




SBS - Published




Restrictions relaxed for NSW churches and gyms as two new cases recorded

There are two new cases of locally acquired COVID-19 in NSW, as the government announces further relaxing of restrictions for churches and gyms.




SBS - Published





After a school year like no other, Year 12s in NSW have begun their HSC exams

Thousands of students across NSW began their HSC exams on Tuesday under strict COVID-safe protocols.




SBS - Published





NSW 'at a critical point' as coronavirus testing rates remain low

Two new local cases of COVID-19 have been recorded in NSW, with low testing rates remaining a problem as the state hovers at "a critical point" in the pandemic.




SBS - Published





Keep getting tested for COVID: NSW Health

With the daily number of COVID-19 tests undertaken in NSW falling below 7000, health authorities have again implored people to get tested if they feel ill.




SBS - Published





Tasmania may open to NSW in early November if coronavirus cases remain low

Tasmania could open up to NSW residents from early November, but Premier Peter Gutwein says more time is needed to assess the coronavirus risk.




SBS - Published





Home Affairs investigating 'cash for visa' scheme linked to former NSW MP Daryl Maguire

It's been revealed former Wagga Wagga MP Daryl Maguire made representations to the Department of Home Affairs linked to allegations of a "cash-for-visas" scheme.




SBS - Published





At least 80 New Zealanders travellers left NSW in trans-Tasman bubble bungle

Travellers from New Zealand have arrived in Victoria, Tasmania and Western Australia despite the state governments refusing to participate in the trans-Tasman travel bubble arrangements.




SBS - Published





NSW records one new local coronavirus case as Sydney's Oran Park cluster grows to 19

A coronavirus cluster in southwest Sydney has grown to 19, with NSW recording one new locally-acquired case and another four in hotel quarantine.




SBS - Published





This Australian regional city relies on international migrants. Now it's hoping to attract locals

International migration has long played a role in the growth of New South Wales city Wagga Wagga. So with borders closed and net migration to Australia set to drop significantly over the next few..




SBS - Published





Coronavirus testing ramping up in southwest Sydney as NSW eases restrictions for outdoor venues

It comes as the NSW government conditionally approves more than 350 workers from Fiji to help fill a labour shortage in the state's abattoirs.




SBS - Published




Daryl Maguire says his 'close personal relationship' with Gladys Berejiklian could have started in 2013

An anti-corruption inquiry into Daryl Maguire - disgraced former MP and former partner of NSW Premier Gladys Berejiklian - is due to conclude on Friday.




SBS - Published





The long history of political corruption in NSW — and the downfall of MPs, ministers and premiers

Gladys Berejiklian is hardly the first NSW politician to become enmeshed in scandal, with corruption in the state's political culture dating back to its founding days.




SBS - Published





NSW ICAC apologises to premier, Daryl Maguire for uploading their relationship details

An anti-corruption inquiry into Daryl Maguire - disgraced former MP and former partner of NSW Premier Gladys Berejiklian - is due to conclude on Friday.




SBS - Published





NSW ICAC apologises to premier, Maguire

An anti-corruption inquiry into Daryl Maguire - disgraced former MP and former partner of NSW Premier Gladys Berejiklian - is due to conclude on Friday.




SBS - Published





NSW reports five new coronavirus cases with one linked to Lakemba cluster

NSW has recorded five new COVID-19 cases overnight, including one case of community transmission linked to a Lakemba cluster that now totals 16 people.




SBS - Published





NSW records six new community coronavirus cases as authorities issue new health alerts

As numerous health alerts are issued, NSW Premier Gladys Berejiklian is warning the state is at a critical point with more COVID-19 outbreaks in Sydney's west.




SBS - Published




Daryl Maguire reveals to NSW ICAC he took a property developer into Gladys Berejiklian's office

Daryl Maguire brought a property developer into the office of his then-secret lover, NSW Premier Gladys Berejiklian, but insists planning wasn't discussed.




SBS - Published





Maguire took developer to meet premier

Daryl Maguire brought a property developer into the office of his then-secret lover, NSW Premier Gladys Berejiklian, but insists planning wasn't discussed.




SBS - Published





New coronavirus alerts issued for Sydney's west as NSW holds off on easing more restrictions

As numerous health alerts are issued NSW Premier Gladys Berejiklian is warning the state is at a critical point with more COVID-19 outbreaks in Sydney's west.




SBS - Published





NSW won't ease more virus restrictions

As numerous health alerts are issued NSW Premier Gladys Berejiklian is warning the state is at a critical point with more COVID-19 outbreaks in Sydney's west.




SBS - Published