United States district court
Type of court of the United States federal court system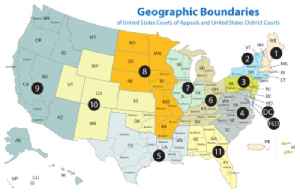 The United States district courts are the general trial courts of the United States federal court system. Both civil and criminal cases are filed in district courts, which are courts of law, equity, and admiralty. There is a United States bankruptcy court associated with each United States district court. Each federal judicial district has at least one courthouse, and many districts have multiple. Most decisions of district courts may be appealed to the respective court of appeals of their circuit, with a small number instead being appealable to the Federal Circuit, or directly to the Supreme Court.


Federal Judge Throws Out Jussie Smollett's Lawsuit

On Wednesday a US District Court ruled that Jussie Smollett's claim of malicious prosecution by the City of Chicago cannot move forward. Smollett is facing charges of fabricating a racially charged..
Credit: Wochit News Duration: 00:32
Published
Zoom Hit With Lawsuit Over Privacy and Security Issues

The suit was filed by investor Michael Drieu in the US District Court for the Northern District of California. The lawsuit alleges that Zoom failed to disclose issues with its privacy and security.
Credit: Cover Video STUDIO Duration: 00:58
Published
You Might Like
Search this site and the web: