Broadway theatre
Class of professional theater presented in New York City, New York, USA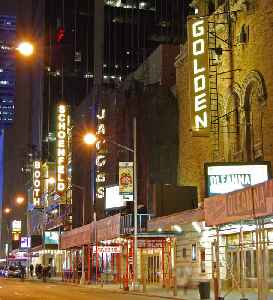 Broadway theatre, also known simply as Broadway, refers to the theatrical performances presented in the 41 professional theatres, each with 500 or more seats, located in the Theater District and Lincoln Center along Broadway, in Midtown Manhattan, New York City. Broadway and London's West End together represent the highest commercial level of live theater in the English-speaking world. While the thoroughfare itself has become eponymous with the district and its collection of 41 theatres, only three of the theatres are physically located on Broadway itself. The rest are located on the numbered cross streets extending from the Nederlander Theatre one block south of Times Square on West 41st Street, north along either side of Broadway to the Vivian Beaumont Theater, located outside of the Theater District on West 65th street, with the highest concentration of theaters located between 42nd Street and 49th Street. While exceptions exist, the term "Broadway theatre" is generally reserved for venues with a seating capacity of at least 500 people, smaller theaters are referred to as off-Broadway, while very small venues are called off-off-Broadway, a term that can also apply to non-commercial or avant garde theater, or productions held outside of traditional theater venues.


Nick Cordero, Broadway Actor, Dies At 41 From COVID-19 Complications

Nick Cordero, the Broadway star who publicly battled COVID-19 has died. His wife, Amanda Kloots shared the news on her official Instagram page saying; "God has another angel in heaven now". Kloots..
Credit: Wochit News Duration: 00:37
Published
Broadway actor Nick Cordero dies at 41

Broadway star Nick Cordero has died after a brutal battle with the coronavirus.
Credit: Cover Video STUDIO Duration: 00:45
Published
'She's a horrible human being': Lea Michele slammed by former Broadway co-star

Lea Michele's former Broadway co-star Craig Ramsay has slammed her as a "despicable, horrible human being".
Credit: Bang Media World Duration: 01:12
Published
'Hamilton' goes from Broadway to America's living rooms

Five years after taking Broadway by storm with its multi-racial, hip-hop take on America's founding fathers, "Hamilton" arrives in millions of homes around the world on Friday as a film. Freddie Joyner..
Credit: Reuters Studio Duration: 02:23
Published
Broadway opening of Hugh Jackman's The Music Man pushed back

The opening of Hugh Jackman's Broadway production of The Music Man has been pushed back to May 2021.
Credit: Cover Video STUDIO Duration: 00:44
Published
Lin-Manuel Miranda's Non-Stop Work Ethic Made 'Hamilton'

Neilson Barnard/Getty Images Lin-Manuel Miranda rose to fame for his Broadway musical, "Hamilton." More than five years after its 2015 debut, a filmed version with the original Broadway cast will..
Credit: Wochit News Duration: 00:38
Published
Nick Cordero's wife advised to 'say goodbye'

Doctors looking after ailing Broadway star Nick Cordero have advised his wife to "say goodbye" as it would take a "miracle" for him to recover from his lengthy coronavirus battle.
Credit: Cover Video STUDIO Duration: 00:57
Published
Nick Cordero doing 'slightly better' amid coronavirus battle

Broadway star Nick Cordero is continuing to make improvements as he recovers from the Covid-19 virus.
Credit: Cover Video STUDIO Duration: 00:53
Published
Sylvester Stallone sends heartfelt message to Nick Cordero amid coronavirus battle

Sylvester Stallone has sent a message of encouragement to critically ill Broadway star Nick Cordero.
Credit: Cover Video STUDIO Duration: 00:46
Published
Frozen musical closing permanently on Broadway

Frozen has become the most high profile casualty of Broadway's coronavirus shutdown - the show will not return when New York's theatres re-open in September.
Credit: Cover Video STUDIO Duration: 00:38
Published
'Frozen' musical is biggest victim of Broadway shutdown

The Broadway family musical "Frozen" is closing permanently, producers announced on Thursday, the first big casualty of the shutdown in New York's theatre industry. Libby Hogan has more
Credit: Reuters Studio Duration: 01:20
Published
You Might Like
Search this site and the web: