Airbus
European aircraft manufacturer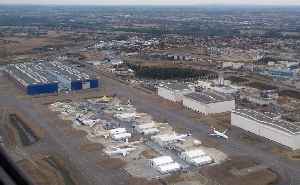 Airbus SE is a European Multinational Aerospace corporation. As of 2019, Airbus is the world's largest airliner manufacturer and took the most airliner orders. Airbus is registered in the Netherlands; its shares are traded in France, Germany and Spain. It designs, manufactures and sells civil and military aerospace products worldwide and manufactures aircraft in the European Union and various other countries. The company has three divisions: Commercial Aircraft, Defence and Space, and Helicopters, the third being the largest in its industry in terms of revenues and turbine helicopter deliveries.


PMQs: PM's investment announcements only 0.2% of GDP

Labour Leader Sir Keir Starmer has criticised the investment announcements made in a speech by Prime Minister Boris Johnson yesterday, which he claimed amount to "investment equivalent to less than a..
Credit: ODN Duration: 03:12
Published
Airbus planning to cut 1,700 jobs in UK as result of coronavirus crisis

Aerospace giant Airbus is planning to cut 1,700 jobs in the UK as a result of the coronavirus crisis, the company announced.The news is a huge blow to its site at Broughton in north Wales, where wings..
Credit: PA - Press Association STUDIO Duration: 00:36
Published
UK factories suffer worst quarter on record - CBI

UK factories saw their weakest quarter on record, according to the latest survey from the CBI, and there's little sign that things are about to get better. Julian Satterthwaite reports.
Credit: Reuters Studio Duration: 01:14
Published
France unveils 15 bln euro aid package for jet makers

France has unveiled a 15 billion euro package of aid targeted at the country's aerospace industry, but also including support for Air France. Julian Satterthwaite reports
Credit: Reuters Studio Duration: 01:23
Published
Pilots take advantage of Britain's empty skies

Instead of a Boeing or Airbus flying overhead, Londoners are now likely to see a vintage biplane or two as a group of flying enthusiasts make the most of the empty airspace over the capital.
Credit: Reuters Studio Duration: 01:37
Published
Voice recorder recovered from Pakistan air disaster

Search teams on Thursday recovered the cockpit voice recorder from the wreckage of a Pakistani airliner that crashed last week, a spokesman for the airline said. Emer McCarthy reports.
Credit: Reuters Studio Duration: 00:52
Published
Pakistani Airliner Carrying 99 Crashes

KARACHI (Reuters) - A Pakistan International Airlines Airbus jet with 99 people on board crashed into residential buildings in the Pakistani city of Karachi on Friday afternoon while approaching the..
Credit: Wochit News Duration: 00:38
Published
How safe is cabin air?

Jet manufacturers and airlines are launching an urgent initiative to convince nervous travelers that the air they breathe on planes is safe, believing this is critical to rebuilding a travel industry..
Credit: Reuters Studio Duration: 01:21
Published
Rolls-Royce to cut 9,000 jobs amid air travel slump

Britain's Rolls-Royce said on Wednesday it would cut at least 9,000 jobs from its global staff of 52,000 and could shut factories to adapt to the much smaller aviation market that will emerge from the..
Credit: Reuters Studio Duration: 01:18
Published
Delta wrestles with too many pilots, too many planes

Delta Air Lines expects to have 7,000 more pilots than it needs in the fall as the coronavirus pandemic weighs on its operations, according to a memo to flight operations employees seen by Reuters...
Credit: Reuters Studio Duration: 01:56
Published
You Might Like



Germany approves 6 billion euro warship contract, 2.8 billion to Airbus: source

The German parliament's budget committee on Wednesday approved a 6 billion euro ($6.73 billion) contract to buy four MKS 180 warships from Dutch shipyard Damen, a source said.




Reuters - Published





Crashed Pakistan A320 jet insured for $19.7 million: airline document

The Pakistan International Airlines (PIA) Airbus SE A320 jet that crashed into a crowded residential district of Karachi last week killing 97 people on board was insured for $19.7 million, an airline..




Reuters - Published





Pakistani airliner carrying 99 plunges into Karachi houses

A Pakistan International Airlines Airbus jet with 99 people on board crashed into a crowded residential district of the city of Karachi on Friday afternoon while approaching the airport.




Reuters - Published




Pakistani PIA plane carrying 99 crashes in Karachi, many feared dead

An Airbus plane with 99 on board crashed into a residential area of the Pakistani city of Karachi on Friday while on approach to the airport, with at least one passenger surviving but many others..




Reuters - Published





Ventilator receives first approval in UK's coronavirus battle

Britain has given regulatory approval to a ventilator which will be made by a group of companies including Airbus, Ford and McLaren, the first such go-ahead as part of efforts to combat the..




Reuters - Published




Britain orders 10,000 ventilators in fight against coronavirus: source

Britain has placed an order for 10,000 ventilators to be made by a consortium of companies including Ford , Airbus and Rolls-Royce as part of efforts to fight the coronavirus, an industry source told..




Reuters - Published





Britain places new order for 10,000 ventilators: source

Britain has placed an order for 10,000 ventilators to be made by a consortium of companies including Ford, Airbus and Rolls-Royce as part of efforts to fight coronavirus, an industry source told..




Reuters - Published





Exclusive: 'Made in Russia' passenger jet finds a single buyer, Aeroflot

Russia's main home-grown passenger jet, the Sukhoi Superjet 100, conceived as a rival to Airbus, Bombardier and Embraer, has no confirmed orders this year beyond a long-standing deal with state carrier..




Reuters - Published




China virus hits cruise ships, carmakers, airlines and Airbus

Thousands of passengers and crew on two cruise ships in Asian waters were placed in quarantine for China's coronavirus on Wednesday as airlines, car manufacturers and other global companies counted the..




Reuters - Published




AirAsia shares plunge after Airbus bribery allegations

Shares of Malaysia's AirAsia Group and unit AirAsia X fell on Monday, after allegations by Britain's Serious Fraud Office that Airbus paid a bribe of $50 million to win plane orders from Asia's largest..




Reuters - Published





Malaysia regulator to probe if AirAsia broke rules in Airbus deals

Malaysia's securities regulator said on Sunday it will examine whether AirAsia Group and unit AirAsia X broke securities laws, after UK prosecutors accused executives of receiving bribes from Airbus..




Reuters - Published





Malaysia probes allegations that Airbus bribed AirAsia bosses

Malaysia's anti-graft agency is investigating allegations by Britain's Serious Fraud Office that Airbus paid a bribe of $50 million to win plane orders from Asia's largest budget airline group,..




Reuters - Published





French team finds engine fragments that fell off Airbus engine

French volunteer search teams have found fragments from an engine that exploded in mid-air over eastern France in July, officials said on Wednesday.




Reuters - Published





China will support its firms in purchases of Airbus planes: Xinhua

China will support its firms' purchases of Airbus planes, state news agency Xinhua said on Wednesday, citing commitments by French President Emmanuel Macron and Chinese President Xi Jinping during a..




Reuters - Published





South Korean divers find crashed Airbus chopper, seven people missing

Divers from South Korean rescue services on Friday located an Airbus chopper which fell into the sea with seven people on board off the disputed islets of Dokdo late on Thursday.




Reuters - Published





No sign of survivors from crashed South Korean Airbus chopper with seven on board

South Korean rescue services have found no sign of seven people missing after an Airbus helicopter crashed into the sea off the disputed islets of Dokdo late on Thursday, officials said.




Reuters - Published





Arms firms fret over delays in Franco-German fighter project

France's Dassault Aviation and Europe's Airbus have stepped up pressure on France and Germany to agree the next stage of a planned fighter project, warning Europe's arms industry and long-term security..




Reuters - Published





Europe orders urgent Airbus helicopter checks after Norway crash

European regulators have ordered immediate checks on recently delivered versions of some Airbus helicopters after a crash in Arctic Norway last month killed five Norwegians and their Swedish pilot.




Reuters - Published





Airbus orders visual checks on some helicopter models after fatal Norway crash

Airbus has ordered checks on three types of helicopters following a fatal crash in Norway, Norwegian authorities said on Wednesday.




Reuters - Published





South African court impounds Tanzanian plane in compensation case: lawyer

South African authorities impounded an Airbus 220-300 aircraft leased by Tanzania's national flag carrier following a court application by a retired farmer who is owed compensation by the Tanzanian..




Reuters - Published





Tanzania says South Africa impounds Airbus plane

South African authorities have impounded an Airbus 220-300 aircraft leased by Tanzania's national flag carrier, the Tanzanian government said.




Reuters - Published