Iranian peoples
Diverse Indo-European ethno-linguistic group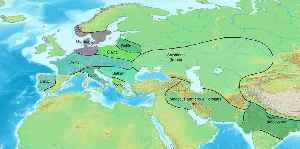 The Iranian peoples, or the Iranic peoples, are a diverse Indo-European ethno-linguistic group.


Germany presses Iran to meet nuclear deal obligations
Germany and the other countries that remain party to the 2015 Iran nuclear deal expect Tehran to uphold its side of the accord, German Foreign Minister Heiko Maas said, describing recent pronouncements..
Reuters - Published
Portugal suspends visas for Iranians, cites security reasons
Portugal has suspended the issuance of entry visas for Iranian nationals for unspecified security reasons, Foreign Minister Augusto Santos Silva told a parliamentary committee on Thursday.
Reuters - Published
7 ways sanctions on Iran are impacting everyday life
From chickens to ID cards, US sanctions are changing daily life for many Iranians.
Credit: euronews (in English) Duration: 02:21Published
United States Building Maritime Security Coalition For Gulf
According to Reuters, a senior U.S. State Department official on Monday said that the United States is building a coalition with its allies to protect Gulf shipping lanes by having "eyes on all..
Credit: Wochit News Duration: 00:33Published
Dems say Trump showed he has no plan for Iran
The Democratic chairman of the House Armed Services Committee on Sunday told CBS News that last week's nearly-executed U.S. strike on Iran shows the White House has no strategy to get Tehran to the..
Credit: Reuters Studio Duration: 01:58Published
Jerusalem day: Iranians show support for Palestine
Iranian citizens rallies for Quds Day, also known as Jerusalem Day, in the annual display of solidarity with Palestinians, which it has marked since the start of its 1979 Revolution.
Credit: Al Jazeera STUDIO Duration: 02:20Published
Pompeo Claims Iran Responsible For Attack On Oil Tankers
According to a report by Reuters, on Thursday, US Secretary of State Mike Pompeo blamed Iran for attacks on oil tankers in the Gulf, claiming it was an effort by Tehran to drive the global price of oil..
Credit: Wochit News Duration: 00:30Published
Iran's basic goods prices double as fall of rial continues
While Trump is warning about war, many Iranians say their country's devaluing currency is the immediate problem.
Credit: Al Jazeera STUDIO Duration: 03:01Published
Search this site and the web:
You Might Like