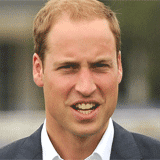 Prince William Reveals His Favorite Fast Food Chain Restaurant!
Prince William just recently became a big fan of this fast food chain! While attending the Next Generation Impact Entrepreneurs Forum on Tuesday (April 17), the 35-year-old future King of England..
Just Jared
Prince William loves Nando's
ContactMusic
Here's where Prince Harry and Meghan Markle will reportedly honeymoon


Source: Cosmopolitan -



Andrew Morton has written an unauthorized book covering Harry and Meghan's relationship. Did Meghan always want to be the next Princess Diana?


Source: ETonline -



Royal Wedding Rules Prince Harry and Meghan Markle Must Follow


Source: Cosmopolitan -



Prince William was warmly received on stage as he welcomed delegates from across the Commonwealth to London on Monday evening Report by Jonesia. Like us on Facebook at http://www.facebook.com/itn and..


Source: ODN -



Plastic surgeon Dr. Julian Silva ranked the royals based on the Golden Ratio. The Golden Ratio judges a person's attractiveness based on the symmetry of their face. Prince William's gap between his..


Source: Wochit News -


Did Prince William Accidentally Reveal Sex of Third Child with Duchess Kate Middleton?
Fans think Prince William may have just accidentally revealed the sex of his third child with Kate Middleton! On Tuesday (April 10), Prince William was celebrating soccer team Aston Villa's win. Star..
Just Jared
When Is Kate Middleton's Due Date? Here's When She's Supposed to Give Birth!
Catherine, Duchess of Cambridge (aka Kate Middleton) is currently pregnant with her third child with Prince William. The Palace previously announced that the 36-year-old royal was due in April, but did..
Just Jared
Search this site and the web: