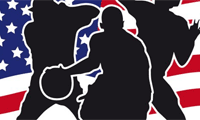 U.S. Sports
---
NBA legend, Michael Jordan's son, Jeffrey Jordan, has been arrested for assault in Scottsdale Friday night.
U.S. Sports media coverage
Jorge Soler drove in the game-winning run in the top of the 10th inning for the Atlanta Braves in their 10-8 win over the San Diego..
KTNV Channel 13 Las Vegas
In this week's "Vegas Like a Local" let's get ready for Vegas Golden Knights season. Jason Dinant shows you how.
https://www.wkbw.com/sports/former-ub-running-back-jaret-patterson-enjoying-the-ride-in-first-year-with-the-wft
KTNV Channel 13 Las Vegas
Las Vegas Raiders defensive tackle Solomon Thomas lived in Australia for 5 years as a child and attended Stanford University prior..
Common Sense Media - Affiliate
Jim Cramer says he is increasingly optimistic on the COVID situation in the U.S. Here's how vaccine boosters and the NFL have..
SI's Albert Breer is joined by Trent Dilfer and former NFL head coach and brother of current Las Vegas Raiders head coach, Jon..